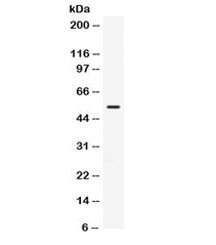 | Item number | Size | Datasheet | Manual | SDS | Delivery time | Quantity | Price |
| --- | --- | --- | --- | --- | --- | --- | --- |
| NSJ-R32084 | 100 µg | | - | - | | | 503.00€ |
0.5mg/ml if reconstituted with 0.2ml sterile DI water. Transforming growth factor, beta receptor...
more
Product information "Anti-TGFBR1 / TGF beta Receptor I"
0.5mg/ml if reconstituted with 0.2ml sterile DI water. Transforming growth factor, beta receptor I is a TGF beta receptor. TGFBR1 is its human gene. The protein encoded by this gene forms a heteromeric complex with type II TGF-beta receptors when bound to TGF-beta, transducing the TGF-beta signal from the cell surface to the cytoplasm. Mutations in this gene have been associated with Loeys-Dietz aortic aneurysm syndrome (LDAS). TGFB1 regulates cell cycle progression by a unique signaling mechanism that involves its binding to TGFBR2 and activation of TGFBR1. Both are transmembrane serine/threonine receptor kinases. The TGFBR1 receptor may be inactivated in many of the cases of human tumor cells refractory to TGFB-mediated cell cycle arrest. Vellucci and Reiss (1997) reported that the TGFBR1 gene is approximately 31 kb long and contains 9 exons. The organization of the segment of the gene that encodes the C-terminal portion of the serine/threonine kinase domain appears to be highly conserved among members of the gene family. Protein function: Transmembrane serine/threonine kinase forming with the TGF-beta type II serine/threonine kinase receptor, TGFBR2, the non-promiscuous receptor for the TGF-beta cytokines TGFB1, TGFB2 and TGFB3. Transduces the TGFB1, TGFB2 and TGFB3 signal from the cell surface to the cytoplasm and is thus regulating a plethora of physiological and pathological processes including cell cycle arrest in epithelial and hematopoietic cells, control of mesenchymal cell proliferation and differentiation, wound healing, extracellular matrix production, immunosuppression and carcinogenesis. The formation of the receptor complex composed of 2 TGFBR1 and 2 TGFBR2 molecules symmetrically bound to the cytokine dimer results in the phosphorylation and the activation of TGFBR1 by the constitutively active TGFBR2. Activated TGFBR1 phosphorylates SMAD2 which dissociates from the receptor and interacts with SMAD4. The SMAD2-SMAD4 complex is subsequently translocated to the nucleus where it modulates the transcription of the TGF-beta-regulated genes. This constitutes the canonical SMAD-dependent TGF-beta signaling cascade. Also involved in non- canonical, SMAD-independent TGF-beta signaling pathways. For instance, TGFBR1 induces TRAF6 autoubiquitination which in turn results in MAP3K7 ubiquitination and activation to trigger apoptosis. Also regulates epithelial to mesenchymal transition through a SMAD-independent signaling pathway through PARD6A phosphorylation and activation. [The UniProt Consortium]
| | |
| --- | --- |
| Keywords: | Anti-SKR4, Anti-ALK5, Anti-ALK-5, Anti-TGFR-1, Anti-TGFBR1, Anti-TbetaR-I, EC=2.7.11.30, Anti-TGF-beta type I receptor, Anti-TGF-beta receptor type-1, Anti-TGF-beta receptor type I, Anti-Activin receptor-like kinase 5, TGFBR1 Antibody / TGF beta Receptor |
| Supplier-Nr: | R32084 |
Properties
| | |
| --- | --- |
| Application: | WB |
| Antibody Type: | Polyclonal |
| Host: | Rabbit |
| Reactivity: | Human |
| Immunogen: | Amino acids HNRTVIHHRVPNEEDPSLDRPFISEGTTLKDLIYDMTT of human TGFBR1 were used as the immunogen for the TGFBR1 antibody. |
| Format: | Purified |
Handling & Safety
| | |
| --- | --- |
| Storage: | -20°C |
| Shipping: | -20°C (International: -20°C) |
Caution
Our products are for laboratory research use only: Not for administration to humans!
You will get a certificate here
Read, write and discuss reviews...
more