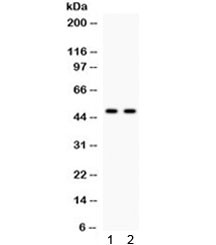 | Item number | Size | Datasheet | Manual | SDS | Delivery time | Quantity | Price |
| --- | --- | --- | --- | --- | --- | --- | --- |
| NSJ-R32105 | 100 µg | | - | - | | | 503.00€ |
0.5mg/ml if reconstituted with 0.2ml sterile DI water. JNK2 is also known as MAPK9. The protein...
more
Product information "Anti-JNK2 (alpha/beta)"
0.5mg/ml if reconstituted with 0.2ml sterile DI water. JNK2 is also known as MAPK9. The protein encoded by this gene is a member of the MAP kinase family. MAP kinases act as an integration point for multiple biochemical signals, and are involved in a wide variety of cellular processes such as proliferation, differentiation, transcription regulation and development. This kinase targets specific transcription factors, and thus mediates immediate-early gene expression in response to various cell stimuli. It is most closely related to MAPK8, both of which are involved in UV radiation induced apoptosis, thought to be related to the cytochrome c-mediated cell death pathway. Also, this gene and MAPK8 are also known as c-Jun N-terminal kinases. This kinase blocks the ubiquitination of tumor suppressor p53, and thus it increases the stability of p53 in nonstressed cells. Studies of this gene's mouse counterpart suggest a key role in T-cell differentiation. Several alternatively spliced transcript variants encoding distinct isoforms have been reported. Protein function: Serine/threonine-protein kinase involved in various processes such as cell proliferation, differentiation, migration, transformation and programmed cell death. Extracellular stimuli such as proinflammatory cytokines or physical stress stimulate the stress-activated protein kinase/c-Jun N-terminal kinase (SAP/JNK) signaling pathway. In this cascade, two dual specificity kinases MAP2K4/MKK4 and MAP2K7/MKK7 phosphorylate and activate MAPK9/JNK2. In turn, MAPK9/JNK2 phosphorylates a number of transcription factors, primarily components of AP-1 such as JUN and ATF2 and thus regulates AP-1 transcriptional activity. In response to oxidative or ribotoxic stresses, inhibits rRNA synthesis by phosphorylating and inactivating the RNA polymerase 1-specific transcription initiation factor RRN3. Promotes stressed cell apoptosis by phosphorylating key regulatory factors including TP53 and YAP1. In T-cells, MAPK8 and MAPK9 are required for polarized differentiation of T-helper cells into Th1 cells. Upon T-cell receptor (TCR) stimulation, is activated by CARMA1, BCL10, MAP2K7 and MAP3K7/TAK1 to regulate JUN protein levels. Plays an important role in the osmotic stress-induced epithelial tight-junctions disruption. When activated, promotes beta-catenin/CTNNB1 degradation and inhibits the canonical Wnt signaling pathway. Participates also in neurite growth in spiral ganglion neurons. Phosphorylates the CLOCK-ARNTL/BMAL1 heterodimer and plays a role in the regulation of the circadian clock (PubMed:22441692). [The UniProt Consortium]
| | |
| --- | --- |
| Keywords: | Anti-JNK2, Anti-MAPK9, Anti-SAPK1a, Anti-JNK-55, Anti-MAPK 9, Anti-MAP kinase 9, EC=2.7.11.24, Anti-c-Jun N-terminal kinase 2, Anti-Stress-activated protein kinase 1a, Anti-Mitogen-activated protein kinase 9, Anti-Stress-activated protein kinase JNK2, JNK |
| Supplier-Nr: | R32105 |
Properties
| | |
| --- | --- |
| Application: | WB |
| Antibody Type: | Polyclonal |
| Host: | Rabbit |
| Reactivity: | Human |
| Immunogen: | Amino acids RNYVENRPKYPGIKFEELFPDWIFPSESERDK of human JNK2a/b were used as the immunogen for the JNK2 antibody. |
| Format: | Purified |
Handling & Safety
| | |
| --- | --- |
| Storage: | -20°C |
| Shipping: | -20°C (International: -20°C) |
Caution
Our products are for laboratory research use only: Not for administration to humans!
You will get a certificate here
Read, write and discuss reviews...
more