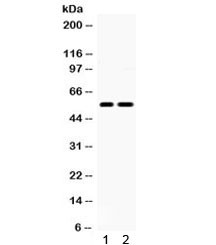 | Item number | Size | Datasheet | Manual | SDS | Delivery time | Quantity | Price |
| --- | --- | --- | --- | --- | --- | --- | --- |
| NSJ-R32094 | 100 µg | | - | - | | | 503.00€ |
0.5mg/ml if reconstituted with 0.2ml sterile DI water. 5HT2B Receptor is known as HTR2B. This...
more
Product information "Anti-5HT2B Receptor"
0.5mg/ml if reconstituted with 0.2ml sterile DI water. 5HT2B Receptor is known as HTR2B. This gene encodes one of the several different receptors for 5-hydroxytryptamine (serotonin) that belongs to the G-protein coupled receptor 1 family. Serotonin is a biogenic hormone that functions as a neurotransmitter, a hormone, and a mitogen. Serotonin receptors mediate many of the central and peripheral physiologic functions of serotonin, including regulation of cardiovascular functions and impulsive behavior. Population and family-based analyses of a minor allele (glutamine-to-stop substitution, designated Q20*) which blocks expression of this protein, and knockout studies in mice, suggest a role for this gene in impulsivity. However, other factors, such as elevated testosterone levels, may also be involved. Protein function: G-protein coupled receptor for 5-hydroxytryptamine (serotonin). Also functions as a receptor for various ergot alkaloid derivatives and psychoactive substances. Ligand binding causes a conformation change that triggers signaling via guanine nucleotide-binding proteins (G proteins) and modulates the activity of down-stream effectors. Beta-arrestin family members inhibit signaling via G proteins and mediate activation of alternative signaling pathways. Signaling activates a phosphatidylinositol-calcium second messenger system that modulates the activity of phosphatidylinositol 3-kinase and down- stream signaling cascades and promotes the release of Ca(2+) ions from intracellular stores. Plays a role in the regulation of dopamine and 5-hydroxytryptamine release, 5-hydroxytryptamine uptake and in the regulation of extracellular dopamine and 5- hydroxytryptamine levels, and thereby affects neural activity. May play a role in the perception of pain. Plays a role in the regulation of behavior, including impulsive behavior. Required for normal proliferation of embryonic cardiac myocytes and normal heart development. Protects cardiomyocytes against apoptosis. Plays a role in the adaptation of pulmonary arteries to chronic hypoxia. Plays a role in vasoconstriction. Required for normal osteoblast function and proliferation, and for maintaining normal bone density. Required for normal proliferation of the interstitial cells of Cajal in the intestine. [The UniProt Consortium]
| | |
| --- | --- |
| Keywords: | Anti-HTR2B, Anti-5-HT2B, Anti-5-HT-2B, Anti-Serotonin receptor 2B, Anti-5-hydroxytryptamine receptor 2B, 5HT2B Receptor Antibody |
| Supplier-Nr: | R32094 |
Properties
| | |
| --- | --- |
| Application: | WB |
| Antibody Type: | Polyclonal |
| Host: | Rabbit |
| Reactivity: | Human, Rat |
| Immunogen: | Amino acids MRLRSSTIQSSSIILLDTLLLTENEGDKTEEQ V of human 5HT2B Receptor were used as the immunogen for the 5HT2B Receptor antibody. |
| Format: | Purified |
Handling & Safety
| | |
| --- | --- |
| Storage: | -20°C |
| Shipping: | -20°C (International: -20°C) |
Caution
Our products are for laboratory research use only: Not for administration to humans!
You will get a certificate here
Read, write and discuss reviews...
more