Kinases are arguably one of the most important drug targets due to the roles their mutations, overexpression, and dysregulation play in all major pathologies, including immunological, inflammatory, degenerative, metabolic, cardiovascular, and infectious diseases. This is because kinases drive nearly every signal transduction process in the body.
Kinases catalyze the transfer of phosphate groups. Based upon the nature of the phosphorylated groups, these enzymes are classified as serine/threonine kinases, tyrosine kinases (including both receptor and non-receptor proteins), and tyrosine kinase-like enzymes. A small group of enzymes including MEK1/2, which catalyze the phosphorylation of both threonine and tyrosine residues within the activation segment of target proteins, are classified as dual specificity kinases.
More than 200 different orally effective protein kinase inhibitors are in clinical trials worldwide. A regularly updated listing of these trials can be found here. Notably, these compounds are directed against a small fraction (~40 different protein kinases) of the more than 500 members of the human protein kinase super family. The most common drug targets include ALK, B-RAF, Bcr-Abl, epidermal growth factor receptor (EGFR), and vascular endothelial growth factor receptor (VEGFR). Available antibodies, inhibitors, and screening libraries are enabling the drug discovery field to validate novel kinase targets, overcome drug resistance, obtain target selectivity (to reduce off-target effects), and develop efficient compound screening and profiling technologies.
Explore 1,200+ Kinase Inhibitors From Cayman Chemical
Click on any of the circles in the pathway image below to find inhibitors targeting specific kinases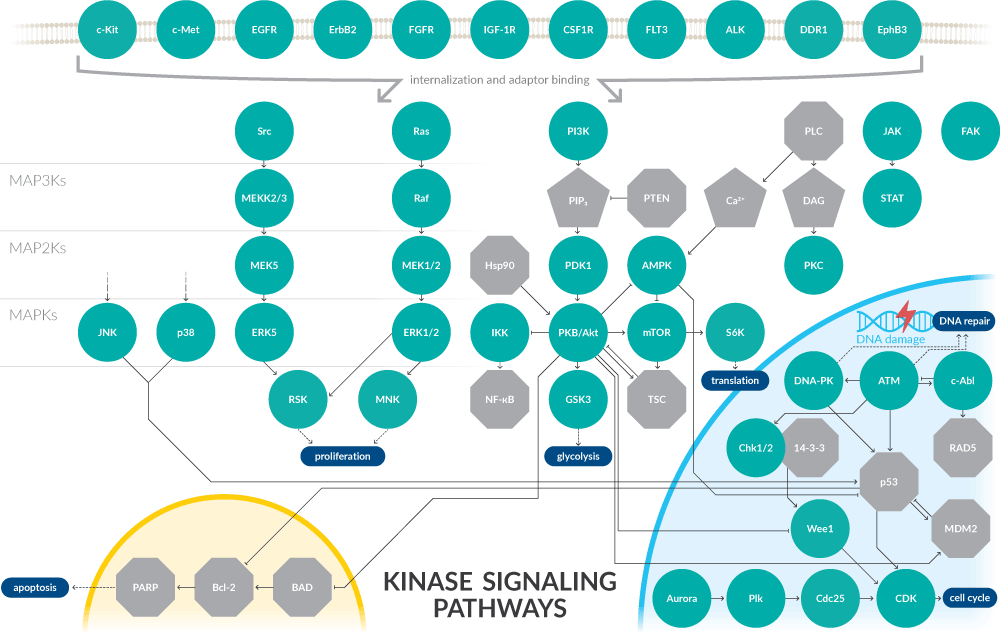 Signal transduction pathways for major kinases. Turquoise circles represent protein kinases, octagons represent related proteins, and pentagons represent second-messengers. Adapted from the Harvard Medical School LINCS Center. Download this kinase pathway chart from Cayman.
Explore All Kinase Products From Cayman Chemical
Select Kinase Antibodies From Rockland Immunochemicals
Rockland Immunochemicals has a long-established history of providing critical antibodies for kinase research:
| | | |
| --- | --- | --- |
| Antibody | Reactivity | Application |
| Anti-AKT | Human (Expected: Mouse, Rat, Chicken) | WB, IHC, IF, IP, ELISA |
| Anti-AKT, clone 18F10.E5 | Human, Mouse (Expected: Rat, Chimpanzee) | ELISA, WB, IHC |
| Anti-phospho-AKT (Ser473), clone 17F6.B11 | Human, Mouse (Expected: Rat, Chimpanzee) | ELISA, WB, IHC |
| Anti-phospho-AKT (Thr308), clone 18F3.H11 | Human, Mouse (Expected: Wide) | ELISA, WB, IHC |
| Anti-phospho-AKT (Thr308), DyLight(TM) 488 conjugated, clone 18F3.H11 | Human, Mouse (Expected: Wide) | IF, FLISA, FWB |
| Anti-phospho-AKT (Thr308) | Human | WB, ELISA |
| Anti-ATM Protein Kinase | Human | WB, IF, ELISA |
| Anti-phospho-ATM Protein Kinase (Ser1981), clone 10H11.E12 | Human, Mouse, Rat | ELISA, WB, IP, IF |
| Anti-phospho-ATM Protein Kinase (Ser1981), clone 7C10D8 | Human, Mouse | ELISA, WB, IHC, FC |
| Anti-phospho-ATM Protein Kinase (Ser1981) | Human | ELISA, WB |
| Anti-phospho-ATM Protein Kinase (Ser1981), Peroxidase conjugated, clone 10H11.E12 | Human, Mouse | ELISA, WB |
| Anti-phospho-ATM Protein Kinase (Ser1981), Biotin conjugated, clone 10H11.E12 | Human, Mouse | ELISA, WB, IP, IF |
| Anti-MEK1 C-Term, clone 13B6.G12 | Human, Mouse, Rat | ELISA, WB |
| Anti-phospho-MEK1 (Ser222)/phospho-MEK2 Ser226), clone 17C9.E1.H2.D7.H7.D5 | Human, Mouse, Rat | ELISA, WB |
| Anti-phospho-MEK1/2 (Ser218/Ser222) | Human, Mouse, Rat | WB |
| Anti-MEK2 N-Term | Human, Mouse, Rat | ELISA, IHC, WB |
| Anti-MEK2 N-Term, clone 19G10.F1.E2 | Human, Mouse, Rat | ELISA, WB |
| Anti-MEK2 C-Term, clone 12A6.G1.G11 | Human, Mouse, Rat | ELISA, WB |
Explore All Kinase Antibodies From Rockland Immunochemicals
Simplify Screening and Hit-Seeking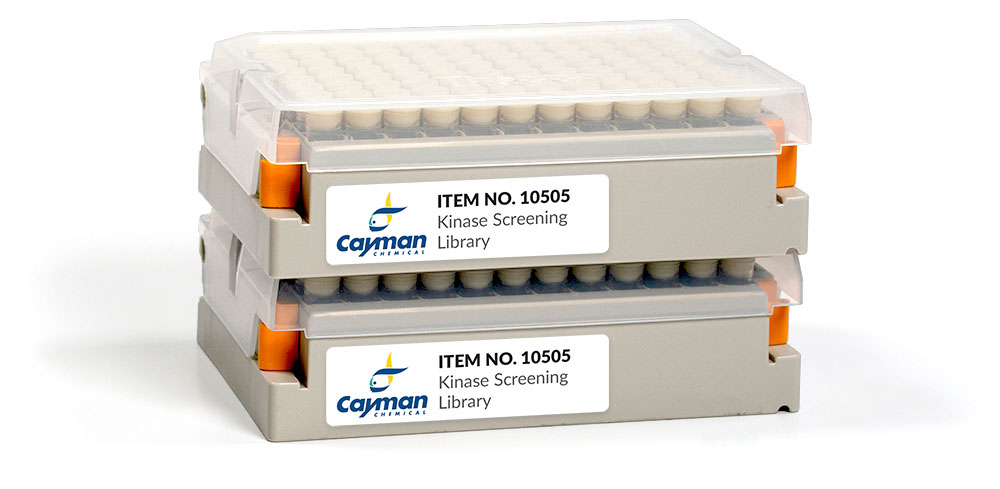 Consists of 2 plates with ~160 selective and non-selective kinase inhibitors
Includes inhibitors of lipid, receptor and non-receptor tyrosine, serine/threonine, and dual specificity kinases
Targets more than 70 distinct kinases and kinase families including ROCK, ALK, GSK3, PKC, PDGFR, VEGFR, Src, MAPK, CDK, and PI3K, among many others
Comprehensive Kinase Screening Library is also available containing more than 850 kinase inhibitors
Screen for EGFR1 Agonists & Antagonists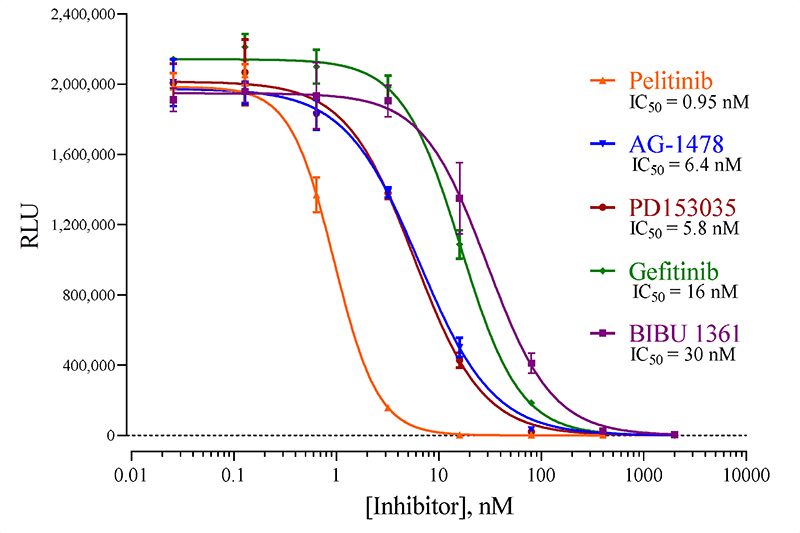 Utilizes proprietary human cells that provide constitutive expression of the human type I epidermal growth factor receptor (EGFR1; ErbB1; HER1)
Includes reporter cells, optimized growth media, media for diluting test compounds, a positive-control agonist, luciferase detection reagent, a white assay plate, a detailed protocol, and a quick guide protocol
Enables screening of test materials for any functional activity, either agonist or inhibitory, that they may exert against EGFR1