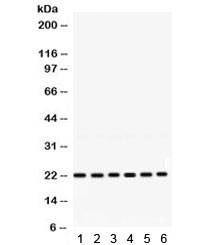 | Item number | Size | Datasheet | Manual | SDS | Delivery time | Quantity | Price |
| --- | --- | --- | --- | --- | --- | --- | --- |
| NSJ-R32155 | 100 µg | | - | - | | | 503.00€ |
0.5mg/ml if reconstituted with 0.2ml sterile DI water. Ras-related protein Rab-10 is a protein...
more
Product information "Anti-RAB10"
0.5mg/ml if reconstituted with 0.2ml sterile DI water. Ras-related protein Rab-10 is a protein that in humans is encoded by the RAB10 gene. RAB10 belongs to the RAS superfamily of small GTPases. And RAB proteins localize to exocytic and endocytic compartments and regulate intracellular vesicle trafficking. The RAB10 gene is mapped to chromosome 2p23.1-p22.3 by radiation hybrid analysis. It was found that the purified recombinant GAP domain of human AS160 showed GAP activity with RAB2A, RAB8A, RAB10, and RAB14, but not with 14 other RABs. Immunoblot analysis showed that these RABs associated with Glut4-positive vesicles in mouse adipocytes. Thereby, it concluded that AK160 functions as a RAB GAP and that RABs may participate in GLUT4 translocation. Protein function: The small GTPases Rab are key regulators of intracellular membrane trafficking, from the formation of transport vesicles to their fusion with membranes. Rabs cycle between an inactive GDP-bound form and an active GTP-bound form that is able to recruit to membranes different set of downstream effectors directly responsible for vesicle formation, movement, tethering and fusion. That Rab is mainly involved in the biosynthetic transport of proteins from the Golgi to the plasma membrane. Regulates, for instance, SLC2A4/GLUT4 glucose transporter-enriched vesicles delivery to the plasma membrane. In parallel, it regulates the transport of TLR4, a toll-like receptor to the plasma membrane and therefore may be important for innate immune response. Plays also a specific role in asymmetric protein transport to the plasma membrane within the polarized neuron and epithelial cells. In neurons, it is involved in axonogenesis through regulation of vesicular membrane trafficking toward the axonal plasma membrane while in epithelial cells, it regulates transport from the Golgi to the basolateral membrane. Moreover, may play a role in the basolateral recycling pathway and in phagosome maturation. According to PubMed:23263280, may play a role in endoplasmic reticulum dynamics and morphology controlling tubulation along microtubules and tubules fusion. [The UniProt Consortium]
| | |
| --- | --- |
| Keywords: | Anti-RAB10, Anti-Ras-related protein Rab-10, RAB10 Antibody |
| Supplier-Nr: | R32155 |
Properties
| | |
| --- | --- |
| Application: | WB |
| Antibody Type: | Polyclonal |
| Host: | Rabbit |
| Reactivity: | Human, Mouse, Rat |
| Immunogen: | Amino acids AKANINIEKAFLTLAEDILRKTPVKEPNSENVD of human RAB10 were used as the immunogen for the RAB10 antibody. |
| Format: | Purified |
Handling & Safety
| | |
| --- | --- |
| Storage: | -20°C |
| Shipping: | -20°C (International: -20°C) |
Caution
Our products are for laboratory research use only: Not for administration to humans!
You will get a certificate here
Read, write and discuss reviews...
more