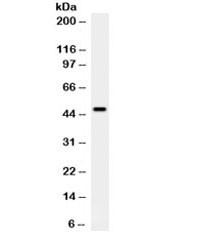 | Item number | Size | Datasheet | Manual | SDS | Delivery time | Quantity | Price |
| --- | --- | --- | --- | --- | --- | --- | --- |
| NSJ-R32154 | 100 µg | | - | - | | | 503.00€ |
0.5mg/ml if reconstituted with 0.2ml sterile DI water. PTEN is also known as BZS, DEC, CWS1,...
more
Product information "Anti-PTEN"
0.5mg/ml if reconstituted with 0.2ml sterile DI water. PTEN is also known as BZS, DEC, CWS1, GLM2, MHAM, TEP1, PTEN1. It is mapped to 10q23.3. This gene was identified as a tumor suppressor that is mutated in a large number of cancers at high frequency. The protein encoded by this gene is a phosphatidylinositol-3,4,5-trisphosphate 3-phosphatase. It contains a tensin like domain as well as a catalytic domain similar to that of the dual specificity protein tyrosine phosphatases. Unlike most of the protein tyrosine phosphatases, this protein preferentially dephosphorylates phosphoinositide substrates. The PTEN structure reveals a phosphatase domain that is similar to protein phosphatases but also has an enlarged active site important for the accommodation of the phosphoinositide substrate. Protein function: Tumor suppressor. Acts as a dual-specificity protein phosphatase, dephosphorylating tyrosine-, serine- and threonine- phosphorylated proteins. Also acts as a lipid phosphatase, removing the phosphate in the D3 position of the inositol ring from phosphatidylinositol 3,4,5-trisphosphate, phosphatidylinositol 3,4-diphosphate, phosphatidylinositol 3- phosphate and inositol 1,3,4,5-tetrakisphosphate with order of substrate preference in vitro PtdIns(3,4,5)P3 > PtdIns(3,4)P2 > PtdIns3P > Ins(1,3,4,5)P4. The lipid phosphatase activity is critical for its tumor suppressor function. Antagonizes the PI3K- AKT/PKB signaling pathway by dephosphorylating phosphoinositides and thereby modulating cell cycle progression and cell survival. The unphosphorylated form cooperates with AIP1 to suppress AKT1 activation. Dephosphorylates tyrosine-phosphorylated focal adhesion kinase and inhibits cell migration and integrin-mediated cell spreading and focal adhesion formation. Plays a role as a key modulator of the AKT-mTOR signaling pathway controlling the tempo of the process of newborn neurons integration during adult neurogenesis, including correct neuron positioning, dendritic development and synapse formation. May be a negative regulator of insulin signaling and glucose metabolism in adipose tissue. The nuclear monoubiquitinated form possesses greater apoptotic potential, whereas the cytoplasmic nonubiquitinated form induces less tumor suppressive ability. In motile cells, suppresses the formation of lateral pseudopods and thereby promotes cell polarization and directed movement. [The UniProt Consortium]
| | |
| --- | --- |
| Keywords: | Anti-PTEN, Anti-MMAC1, EC=3.1.3.16, EC=3.1.3.48, EC=3.1.3.67, Anti-Phosphatase and tensin homolog, Anti-Mutated in multiple advanced cancers 1, Anti-Phosphatidylinositol 3,4,5-trisphosphate 3-phosphatase and dual-specificity protein phosphatase PTEN, PTEN |
| Supplier: | NSJ Bioreagents |
| Supplier-Nr: | R32154 |
Properties
| | |
| --- | --- |
| Application: | WB |
| Antibody Type: | Polyclonal |
| Conjugate: | No |
| Host: | Rabbit |
| Reactivity: | Human, Rat |
| Immunogen: | Amino acids 91-403 of human PTEN were used as the immunogen for the PTEN antibody. |
| Format: | Purified |
Handling & Safety
| | |
| --- | --- |
| Storage: | -20°C |
| Shipping: | -20°C (International: -20°C) |
Caution
Our products are for laboratory research use only: Not for administration to humans!
You will get a certificate here
Read, write and discuss reviews...
more