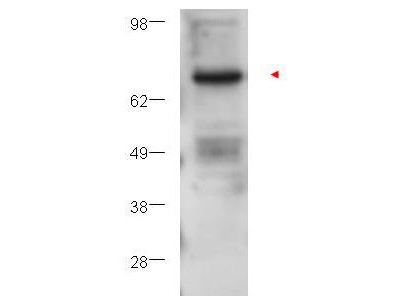 Promotion:
Get a free Rockland T-Shirt with every Rockland purchase above 500 €.
| Item number | Size | Datasheet | Manual | SDS | Delivery time | Quantity | Price |
| --- | --- | --- | --- | --- | --- | --- | --- |
| 600-401-A76S | 25 µl | | - | - | | | 130.00€ |
This product was affinity purified from monospecific antiserum by immunoaffinity chromatography....
more
Product information "Anti-Protein Kinase C beta (PKC beta)"
This product was affinity purified from monospecific antiserum by immunoaffinity chromatography. This antibody is specific for human PKC beta protein.  A BLAST analysis was used to suggest cross-reactivity with PKC beta from human and monkey sources based on a 100% homology with the immunizing sequence.  Expect partial cross reactivity to PKC beta from rabbit and bovine (93% homology) and rat and mouse (87% homology) sources.  Cross-reactivity with PKC beta from other sources has not been determined. Protein function: Calcium-activated, phospholipid- and diacylglycerol (DAG)-dependent serine/threonine-protein kinase involved in various cellular processes such as regulation of the B-cell receptor (BCR) signalosome, oxidative stress-induced apoptosis, androgen receptor-dependent transcription regulation, insulin signaling and endothelial cells proliferation. Plays a key role in B-cell activation by regulating BCR-induced NF-kappa-B activation. Mediates the activation of the canonical NF-kappa-B pathway (NFKB1) by direct phosphorylation of CARD11/CARMA1 at 'Ser-559', 'Ser-644' and 'Ser-652'. Phosphorylation induces CARD11/CARMA1 association with lipid rafts and recruitment of the BCL10-MALT1 complex as well as MAP3K7/TAK1, which then activates IKK complex, resulting in nuclear translocation and activation of NFKB1. Plays a direct role in the negative feedback regulation of the BCR signaling, by down-modulating BTK function via direct phosphorylation of BTK at 'Ser-180', which results in the alteration of BTK plasma membrane localization and in turn inhibition of BTK activity. Involved in apoptosis following oxidative damage: in case of oxidative conditions, specifically phosphorylates 'Ser-36' of isoform p66Shc of SHC1, leading to mitochondrial accumulation of p66Shc, where p66Shc acts as a reactive oxygen species producer. Acts as a coactivator of androgen receptor (ANDR)-dependent transcription, by being recruited to ANDR target genes and specifically mediating phosphorylation of 'Thr-6' of histone H3 (H3T6ph), a specific tag for epigenetic transcriptional activation that prevents demethylation of histone H3 'Lys-4' (H3K4me) by LSD1/KDM1A. In insulin signaling, may function downstream of IRS1 in muscle cells and mediate insulin-dependent DNA synthesis through the RAF1- MAPK/ERK signaling cascade. May participate in the regulation of glucose transport in adipocytes by negatively modulating the insulin-stimulated translocation of the glucose transporter SLC2A4/GLUT4. Under high glucose in pancreatic beta-cells, is probably involved in the inhibition of the insulin gene transcription, via regulation of MYC expression. In endothelial cells, activation of PRKCB induces increased phosphorylation of RB1, increased VEGFA-induced cell proliferation, and inhibits PI3K/AKT-dependent nitric oxide synthase (NOS3/eNOS) regulation by insulin, which causes endothelial dysfunction. Also involved in triglyceride homeostasis. Phosphorylates ATF2 which promotes cooperation between ATF2 and JUN, activating transcription. [The UniProt Consortium]
| | |
| --- | --- |
| Keywords: | Anti-PKCB, Anti-PKC-B, Anti-PRKCB, Anti-PKC-beta, EC=2.7.11.13, Anti-Protein kinase C beta type |
| Supplier: | Rockland Immunochemicals |
| Supplier-Nr: | 600-401-A76S |
Properties
| | |
| --- | --- |
| Application: | ELISA, WB |
| Antibody Type: | Polyclonal |
| Conjugate: | No |
| Host: | Rabbit |
| Reactivity: | Human, Monkey |
| Immunogen: | synthetic peptide corresponding to an internal region of human Protein kinase C beta. |
| Format: | Purified |
Handling & Safety
| | |
| --- | --- |
| Storage: | -20°C |
| Shipping: | -20°C (International: -20°C) |
Caution
Our products are for laboratory research use only: Not for administration to humans!
You will get a certificate here
Read, write and discuss reviews...
more