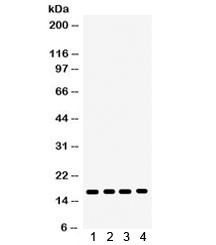 | Item number | Size | Datasheet | Manual | SDS | Delivery time | Quantity | Price |
| --- | --- | --- | --- | --- | --- | --- | --- |
| NSJ-R32115 | 100 µg | | - | - | | | 503.00€ |
0.5mg/ml if reconstituted with 0.2ml sterile DI water. Centromeres are the differentiated...
more
Product information "Anti-CENPA"
0.5mg/ml if reconstituted with 0.2ml sterile DI water. Centromeres are the differentiated chromosomal domains that specify the mitotic behavior of chromosomes. CENPA encodes a centromere protein which contains a histone H3 related histone fold domain that is required for targeting to the centromere. And CENPA is proposed to be a component of a modified nucleosome or nucleosome-like structure in which it replaces 1 or both copies of conventional histone H3 in the (H3-H4)2 tetrameric core of the nucleosome particle. Alternative splicing results in multiple transcript variants encoding distinct isoforms. In higher eukaryotes, the recruitment of CENP-A nucleosomes to existing centromeres is an epigenetic process, independent of the underlying DNA sequence. In S.pombe, de novo recruitment of the CENP-A to the centromere is believed to be controlled by centromeric heterochromatin surrounding the centromere, and by an RNAi mechanism. The RNAi is cut to form siRNA, this complexes with the protein Chp1, which then binds the centromeric heterochromatin. This helps recruit other proteins, ultimately resulting in a protein complex that forms cohesin between two sister chromatids at the centromeric heterochromatin. This cohesin is believed to be essential in replacing the centromere H3 with CENP-A. CENP-A is one of the epigenetic changes that is believed to distinguish centromeric DNA from other DNA. Once the CENP-A has been added, the centromere becomes self-propagating, and the surrounding heterochromatin/RNAi mechanism is no longer necessary. Protein function: Histone H3-like variant which exclusively replaces conventional H3 in the nucleosome core of centromeric chromatin at the inner plate of the kinetochore. Required for recruitment and assembly of kinetochore proteins, mitotic progression and chromosome segregation. May serve as an epigenetic mark that propagates centromere identity through replication and cell division. The CENPA-H4 heterotetramer can bind DNA by itself (in vitro). [The UniProt Consortium]
| | |
| --- | --- |
| Keywords: | Anti-CENPA, Anti-CENP-A, Anti-Centromere protein A, Anti-Centromere autoantigen A, Anti-Histone H3-like centromeric protein A, CENPA Antibody |
| Supplier-Nr: | R32115 |
Properties
| | |
| --- | --- |
| Application: | WB |
| Antibody Type: | Polyclonal |
| Host: | Rabbit |
| Reactivity: | Human, Rat |
| Immunogen: | Amino acids 1-140 of human CENPA were used as the immunogen for the CENPA antibody. |
| Format: | Purified |
Handling & Safety
| | |
| --- | --- |
| Storage: | -20°C |
| Shipping: | -20°C (International: -20°C) |
Caution
Our products are for laboratory research use only: Not for administration to humans!
You will get a certificate here
Read, write and discuss reviews...
more