The following products have been found matching your search "Q8IY37":
1
No results were found for the filter!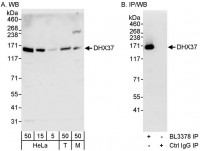 Anti-DHX37
Item number: A300-856A

DHX37 is a member of the DEAH box family of proteins that possesses several conserved motifs which include the highly conserved DEAH (Asp-Glu-Ala-His) amino acid sequence motif. The major activity of DEAH box proteins is to function as ATP-dependent RNA helicases. RNA helicases play an important role in all aspects...
| | |
| --- | --- |
| Keywords: | Anti-DHX37, Anti-DDX37, EC=3.6.4.13, Anti-DEAH box protein 37, Anti-Probable ATP-dependent RNA helicase DHX37 |
| Application: | WB, IP |
| Reactivity: | Human |