What is your role at Arigo Biolaboratories and how long have you been with the company?
I am the founder of Arigo Biolaboratories and the CEO. In July 2019, we celebrated our five-year anniversary.
What major product lines do you offer to the research community?
Arigo offers ELISA kits, antibodies, antibody duos, and antibody panels. We want to provide smart solutions, not just single antibodies. That is why we make antibody duos and antibody panels which include multiple antibodies. Most of these include secondary antibodies. These formats make experiments easier and quicker for researchers.
Are both antibodies of the antibody duo directed against one target?
Yes, most of our antibody duos are directed against one target while our antibody panels are comprised of multiple related targets. For example, we combine E-Cadherin, Vimentin, and N-Cadherin to form an antibody panel for EMT (Epithelial-mesenchymal transition) research. So, they do not have one single target, they are against three targets.
What is the history behind your company's name?
Initially, we tried to figure out a name that sounds like "original" and came across the word "origo" (Latin for origin). To be further up in product search, we changed the "o" to an "a" and finally our name became Arigo.



How did you come up with the squirrel? Were you looking for some kind of mascot?
Yes, one reason we chose the squirrel is that we thought using something like an animal would be easier for people to remember us by. As a new company, we thought that people using our antibodies for the first time might not remember our name. But they might remember the squirrel company and identify us that way. On the other hand, we want to provide products that are smart solutions, and we felt that the squirrel captured that by being smart, intuitive, and balanced. Lastly, we want our customers to have a bright day, and the squirrel makes them smile.
What was the first product sold?
Our first product was the Human Perforin ELISA Kit, surprisingly not an antibody duo or panel. The Perforin ELISA Kit was not offered by many companies at that time. But it is a very important target as it is a killer cell activity marker.
Your company is based in Hsinchu, Taiwan. Hsinchu is also referred to as the Windy City. On the other hand, it seems to get pretty warm in summer. Sounds like the perfect climate?
Maybe, because of the geography, which is very flat, the wind blows across the city. So yes, it is a windy city. But it depends on the season. In summer, but it is always mostly around 35°C.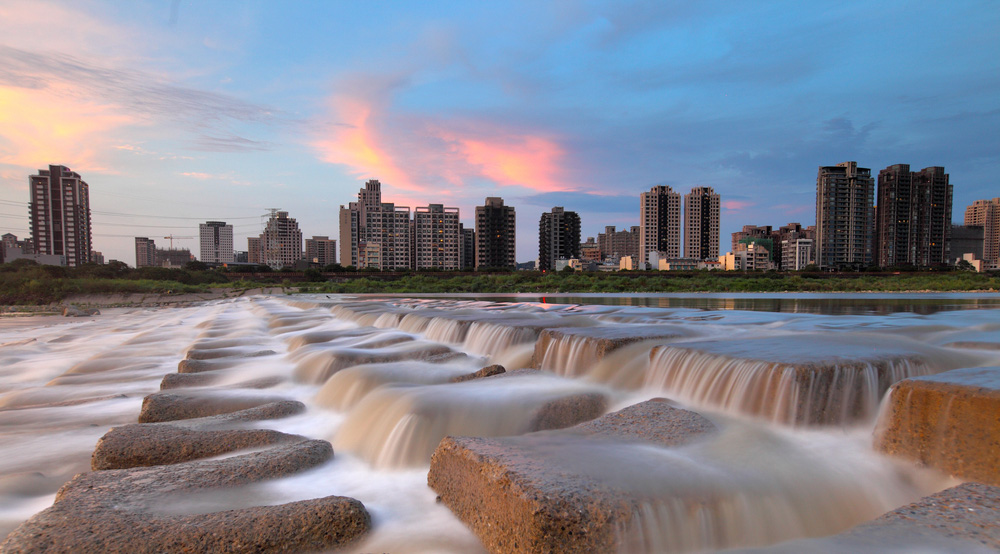 Figure: Skyline of Hsinchu
You recently introduced rabbit monoclonal antibodies produced by your proprietary recombinant technology. What is special about your SQab clones?
Rabbit monoclonal technology is very important. Everyone likes monoclonal antibodies but traditionally, mouse was used which has a limited blood volume and the antibody sensitivity is not always high enough, particularly if you want to do IHC (immunohistochemistry) experiments. Rabbit antibodies function much better than mouse in that case. There was already a patent for rabbit monoclonal antibodies, so we had to overcome this by developing our own cloning technology for rabbit monoclonal manufacture. Our system has a lot of advantages. If we take dilutions, for example, we can usually do 1:1000 or even 1:5000 for IHC. They simply work really well in IHC and specificity is good as well. We do intensive screening during the production period to ensure the quality of our monoclonals.
Do you provide IHC images for all your rabbit monoclonals?
Yes, we have a lot of dilution data for IHC.
The AACR Annual Meeting is the world's largest cancer research conference and attracts more than 18,000 researchers each year. Since you started exhibiting at AACR, how has it changed?
Because our company is relatively young, we only started going to AACR last year. This is our second year at the conference, and it gives us the opportunity to meet our end users and better understand what they are looking for as well as ideas for new products. Going to AACR also gives us the opportunity to meet our distributors. Because most of our distributors visit AACR, we meet with them here instead of having to go to their country to meet with them, so this is a nice opportunity.
What are the most common questions you have received from attendees?
We receive many different questions. Some people are working on a special project, so they are looking for very special antibodies. Some are so unique that we have not heard the names before. We will write down this kind of question and investigate if production is possible and if other researchers are interested in the target. Beside those types of questions, we also have customers who look for free antibodies as well. And some people try to find out if a project they have in mind might be made possible by our products. They are interested in our new products and want to get some ideas from the manufacturer, so the questions we receive are quite different.
Do you have time to visit the posters and talk to researchers outside of the booth?
Not often, but we try. Our PhD researchers visit the posters to try to understand some of the new research. This is one of the important things we do here at AACR. We also try to attend the seminar sessions.
What conference are you heading to after AACR?
We will go to China for the China Immunology Meeting. This year it is in Beijing. It is not as big as the AACR but focuses more on the Chinese market instead of the global market. But this year they changed that so it will have more global reach. It will be a bigger event than previous years.