What is your role at BPS?
My official title is Senior Director of Global Sales and Marketing. What that really means is that I work with all of our distributors, and I am responsible for the international sales.
How long have you been with BPS?
I have been with BPS Bioscience for about eight years now.
What major product lines do you offer to the research community?
BPS offers reagents and services, and those reagents are primarily proteins—this is how we started out — plus assay kits and cell lines. The cell lines have been a really important part of our growth. We also offer services based on those same assay kits and cell lines.
What does BPS in your company name stand for?
This is the key question. Every time we ask our boss, we get a slightly different answer. I believe it is either, Biochemical Products and Services or Biologicals and Pharmaceutical Services. I guess it means what you want it to mean.

Do you know which product was first sold by BPS?
I do know what our first product was. Our first product was sphingosine kinase. We had sphingosine kinase 1 and 2. We still sell it, but it is not as big of a product as it was. The first big product for us I think was EZH2, which is a methyltransferase. BPS was the first company that could make this complicated protein in a functional form. It actually takes five different proteins and they all have to be in the right ratios. It is very difficult to make. For many years it was our top selling product, so we really had a strong focus in epigenetics. Over the years we've changed and modified that, and so I would say that our strength now is in immunotherapy. We have a lot of immunotherapy and immuno-oncology products, and we are expanding that as well.
As you already told us, you started off as a protein company. How did you grow from that to supplying cell lines and services?
It actually evolved from the proteins. As a protein company, we were testing the proteins to make sure that they were functional so we were already developing the assays in house to test proteins. Once we knew how to make the assays, then we offered the assays as kits. Once we had the assay kits, we were able to offer that as a service. We did the same with the cell lines. We expanded it from making a few cell lines to making cellular assays and offering cellular assay services. Our growth has been very organic coming from the fact that we have our strength in protein synthesis and making functional proteins. Our company is about 40% PhDs, so almost everybody who works at BPS is working in the lab, making new products. I think the secret to our growth has been that we make so many new products. We released 266 new products last year (2018) and we are a 45-person company, and not everybody is in the lab. I think the number of products we have been able to put out each year is pretty impressive.
I agree.
I am confident that we will hit 300 new products this year.
BPS is based in San Diego, California. In San Diego there are fines issued for leaving Christmas lights up past February 2nd. Do you have any other fun facts about the city?
If you like skateboarding and snowboarding, both Tony Hawk and Shaun White are both from San Diego.
Also, I can tell you that it is illegal to shoot jackrabbits from a streetcar in San Diego!
Do you have streetcars?
I have only seen one downtown but I have never seen a jackrabbit there so it makes no sense to me.
San Diego is a really beautiful city. It's 25 degrees Celsius every day, winter and summer. It's an amazing place.
It sounds like a great place to be.
It really is. There's the ocean right there and the mountains and desert are both within a two-hour drive. You can see cactus in the desert, go snowboarding, and then watch the sunset over the ocean all in the same day.
BPS has developed an impressive portfolio of immunotherapy-related cell lines. Many are also available through your cell line rental program. What benefits does the leasing option offer customers?
That is something that I believe is unique to BPS Bioscience. We realized that a cell line is a big investment for most people. They are a little bit nervous about spending a lot of money to purchase something. We wanted to lower that risk for the customer, so we offer a rental program—it is a trial program. We allow them to try the cells in their own lab for three months and the cost of doing the trial is half of the regular cost of the cells. At the end of the three months, if they like it, when they know that it works in their own hands, in their own lab, and in their assays, and they decide to keep the cells, they just pay the remaining 50%. If it doesn't work for them, they are allowed to return the cells. At least 90% of the time they find that the cells work great and they choose to keep the cells. By the time they actually buy the rest of the cells, they know that they work in their lab and in their assay—so it takes away the risk and the initial amount of money upfront is also small. This has been something that has been really successful for us—most people are not willing to do that for their customer. 1 in 10 of the cell lines we sell was a rental program first. The cell lines are probably our fastest growing product line, and I think this might be contributing to that.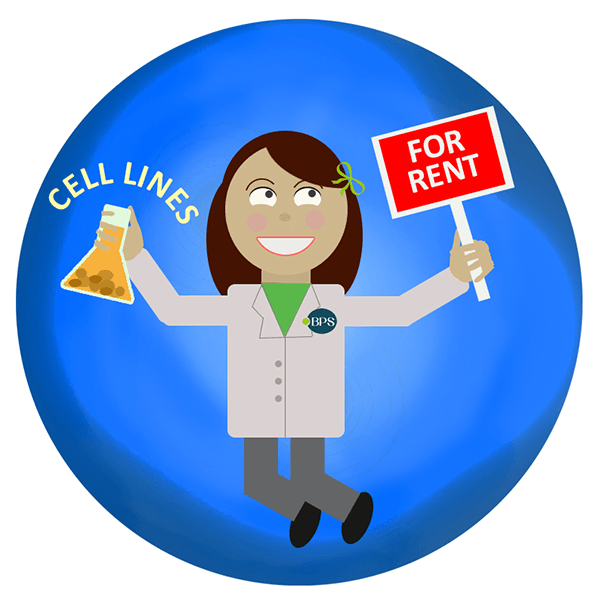 BPS offers their customers an unique rental programm for cell lines
The AACR Annual Meeting is the world's largest cancer research conference and attracts more than 18,000 researchers each year. Since you started exhibiting at AACR, how has it changed?
BPS has gone to AACR frequently. I've been personally coming to AACR for 15 or 20 years now. I am not actually sure what has changed over the years. Every year there is one big topic that you see a lot of. This year it is probably going to be CAR-T cells (Chimeric antigen receptor T cells). There is usually one key product that everybody grabs onto.
I remember two years ago immunotherapy was everywhere.
You are still going to see immunotherapy. It is continuing to grow, we have not seen any signs of it slowing down. But what they are studying is changing. They are looking for new targets and for co-therapies for targets that have been successful. PD-1, PD-L1, and CTL4, for example, have actually been approved for clinical use already. Now they are trying to find ways to improve that. The immunotherapy products have been very successful for a certain number of patients, but they still are not curing everybody a hundred percent, so they are trying to get to the next level.
And it is still a growing part of your product line?
Yes, sure. Of the 20 to 30 new products we are putting out per month, I would say probably 50% are immunotherapy products.
Do you have time to visit the posters and talk to researchers outside of the booth?
I do try to visit the posters. I am also working at the booth so I have limited time to see the posters. But we take turns, so I do usually spend some time visiting the posters. We have somebody here who has a full conference pass, and he is attending a lot of the talks and seminars. That is how we get a lot of new product ideas. Part of the secret to making more than 300 new products is thinking about what are the newest targets and seeing what people are interested in. We have to think ahead of time about what people are going to need in the future, to have it already made.
What conference are you heading to next?
The next big conference we will be at is Drug Discovery Chemistry in San Diego in April. We do about five or six conferences a year. We try to attend the major ones. We hit AACR every year, and we also visit Antibody Engineering & Therapeutics US or SITC (Society for Immunotherapy of Cancer). And then sometimes we'll just try one out and see if it's something interesting to us and is a good choice for us depending on what the topic is.