What is your role at Elabscience, and how long have you been with the company?
I'm Perry Tan, Sales Manager at Elabscience. I have been with the company for seven years.
What major product lines do you offer to the research community?
Elabscience specializes in immunological products that include proteins, primary antibodies, secondary antibodies, ELISA kits, apoptosis detection kits, and biochemical kits. We have just recently extented our primary antibody portfolio with 2.000+ flow cytometry antibodies.
What is the history behind your company name?
Elabscience is a combination of the words E+LAB+SCIENCE. We aim to bring e-commerce, bio-lab, and science to the life science community.
What was the first product sold?
The first product Elabscience sold was the Human PTHrP (Parathyroid Hormone Related Protein) ELISA Kit (E-EL-H1478) to a customer in Denmark. PTHrP is a parathyroid hormone that regulates endochondral bone development and epithelial-mesenchymal interactions during the formation of the mammary glands and teeth.
Your company is based in Wuhan, China. Re gan mian (pronounced as: re gan mien, which means hot dry noodles) seems to be one of the popular dishes there. How can noodles be prepared dry?
"Hot dry noodles" is the literal translation of re gan mian. "Re" means hot, "gan" means dry, and "mian" means noodles. This is a traditional noodle dish that originated from Wuhan, the capital of the Chinese providence of Hubei. Re gan mian is unique because the noodles do not contain a soup base like most other Asian noodles. The noodles are cooked in boiled water first, and are then drained and topped with sesame sauce/paste that needs to be vigorously mixed in.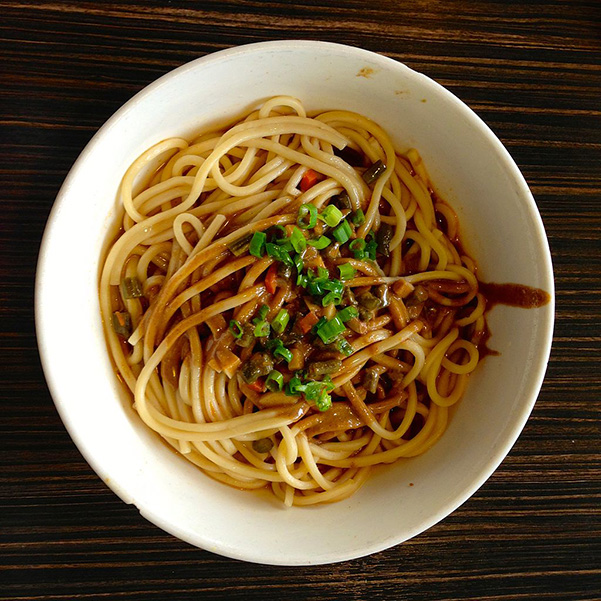 Image by ZhengZhou - Own work, CC BY-SA 4.0, Link
You recently added various flow cytometry antibodies with high staining indexes to your catalog. Given that the clones might be identical to competitors, what makes them better for flow cytometry applications?
A high staining index is a key factor in choosing a flow cytometry antibody. Its application may enable higher specificity for a researcher's experimental requirements, such as for multi-color flow cytometry that needs high-color compensation. At the same time, we offer a 100% quality guarantee on our conjugated antibodies. If one of our antibodies does not work as indicated on the datasheet, we will replace or refund it, guaranteed.
The AACR Annual Meeting is the world's largest cancer research conference and attracts more than 18,000 researchers each year. Since you started exhibiting at AACR, how has it changed?
More international companies have joined the meeting and new technologies have developed quickly, such as CRISPR gene editing, flow cytometry detection analysis, molecular detection, and the expansion of next-generation sequencing applications.
What are the most common questions you have received from attendees?
Many researchers are interested in learning about our product features. If an item they are looking for is in our product range, they will ask for specific parameters of that product.
Do you have time to visit the posters and talk to researchers outside of the booth?
Visiting posters is one of our main goals for the meeting. We are interested in hearing about new developments in cancer research and learning about new technologies and trends. This insight will help us determine how we can improve our product offering.
What conference are you heading to next?
We will be exhibiting at the Experimental Biology (EB) annual meeting in Orlando, Florida.