What are your roles at Bethyl, and how long have you been with the company?
SC: I'm Stacy Carwile, I am the VP of Customer Care and Attending Veterinarian at Bethyl Laboratories, Inc. I graduated from Texas A&M University with my Doctorate of Veterinary Medicine. I am dedicated to protecting the health and welfare of the animals at Bethyl. I also lead all customer care related functions as well as marketing and communications. I have been a part of Bethyl for nearly 10 years.
MS: I am Mike Spencer, I am the Director of the IHC Lab and Digital Pathology at Bethyl Laboratories, Inc. Almost two years ago, I made the decision to come to Bethyl from the University of Kentucky. At Bethyl, my focus is developing multiplex antibody staining for use with digital pathology platforms as well as developing unique solutions for IHC/IF projects.
What major product lines do you offer to the research community?
SC: We have several major product lines. One is our primary antibodies consisting of recombinant monoclonal antibodies and polyclonal antibodies. We offer more than 8,200 primary antibodies qualified in multiple applications. Another significant product line is our secondary antibodies and their conjugates. Bethyl is also a major provider of bulk antisera products to IVD manufacturers for use in clinical chemistry applications. We also have a very successful line of ELISA kits. As a manufacturer, Bethyl is able to provide products in bulk quantities and has the ability to customize to meet your needs.
What is the history behind Bethyl's name?
SC: Bethyl Laboratories, when founded in 1972, was located in a rural area of Texas. The small community in the town of Montgomery was at one time called the Bethel community. The founders, Henry and Sally Carwile, decided to incorporate the community name and they changed the spelling to include a "Y". The Y looks like an antibody.

What was the first product Bethyl sold?
SC: We started offering custom antisera production services. Henry started with a small group of goats. I believe the first products were antibodies against human IgG.
As you mentioned Bethyl Laboratories is based in Montgomery, Texas. Montgomery has just a thousand citizens, but it is actually one of the oldest towns in Texas. How would you describe Bethyl's surroundings?
SC: When the family started the business, the community was very small. The surroundings consisted of mostly small family farms. Today the small farms are disappearing because the growth is so vast. We are located less than 70 miles from Houston, the 4th largest city in the USA. Houston is also the home of the world's largest medical center complex.
Because people want to enjoy the countryside?
SC: Montgomery is located northwest of Houston. Close enough for people to live here and drive into the city to work. The crime rates are lower here, less traffic congestion, more relaxed pace and a strong community feeling.
That is funny, because in Germany we have the exact opposite. All the people from the countryside tend to move in to the cities which grow and grow.
SC: Here in Montgomery, the town is expanding and suburbs get more crowded.
But do you still get the feeling of an old town when you are in Montgomery?
SC: Yes, you do when you visit several streets in the heart of downtown. The historical society does a good job of preserving the history and culture of the City of Montgomery. There are several properties including the Pioneer Complex and Museum, Old Post Office and Drug Store, Old Baptist Church and several cemeteries marked as historical sites in town. There are a few antique shops, restaurants, wine and specialty coffee shops downtown that are frequented by visitors, especially on Saturdays. The town does continue to grow on the borders of the city limits with new and modern gas stations, grocery stores, pharmacies, restaurants, etc. as the demand for these conveniences increase as the suburbs continue to fill with more and more people.
Sounds nice. I'm looking forward to visiting the Bethyl facility.
SC: Yes, you are welcome to visit. The facility is impressive. Every step of Bethyl antibody production, testing, sales, marketing, etc. is performed onsite.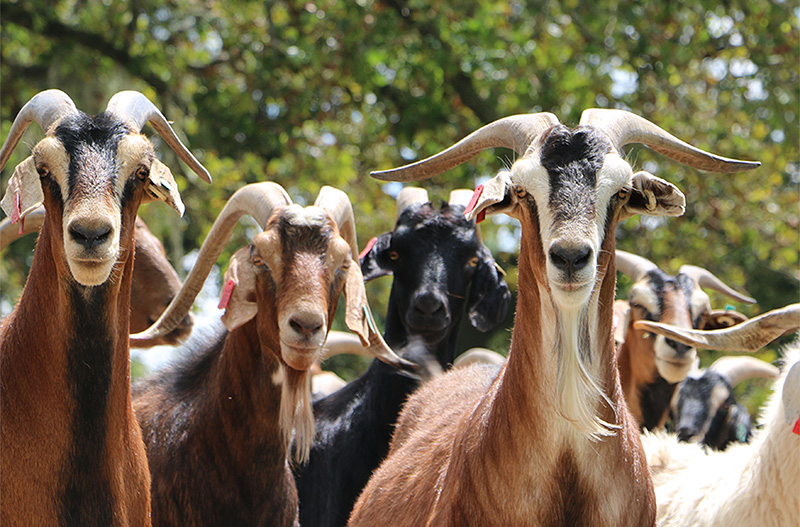 Goats at the Bethyl facility: Every step of Bethyl antibody production is perfomed onsite
You recently started incorporating colored ribbons in your website's logo. What is the story behind that?
SC: The ribbons are designed to create public awareness to health, medical conditions, disability and other issues. Many of our primary antibodies are focused on cancer research and we have decided to support cancer awareness by adding the ribbon to our current company primary web page. We have plans to feature a blog post associated with each cancer month, then highlight the Bethyl antibodies related to the cancer featured. When the blog post is released, we have plans to change the ribbon color to represent the cancer type.
You recently published an article about multiplex IHC on your blog. What is the main benefit compared to single marker IHC?
MS: The main benefit of using multiplex immunofluorescence techniques is the considerable amount of information one can obtain from a single tissue sample. Tissue can be extremely precious, especially samples from human patients. In the traditional IHC, a researcher can visualize one to two markers on one section. In order to examine additional markers, one must stain additional sections. Multiplex immunofluorescence techniques allow one to examine up to 8 markers on a single tissue section. This allows a researcher to gather detailed information about the tumor microenvironment while using the least amount of patient samples. However, the really exciting aspect of multiplex is the information that can be extracted from the experiment. For example, in immuno-oncology one can acquire the information to answer multiple questions: Where are the tumor cells located within the patient sample? Does the tissue contain T cells and where are the T-cells located? What is the functional state of the T-cells? Do cells within the tissue display immune checkpoint inhibitor signaling proteins? Using image analysis software one can extract spatial information from a multiplex experiment that would be difficult to obtain otherwise. Image analysis combined with the multiplex techniques allow a researcher to not only identify what cells are present in the tissue but also the relationship between those cells within the tumor microenvironment. The multiple benefits of performing multiplex experiments will lead to exciting scientific discoveries.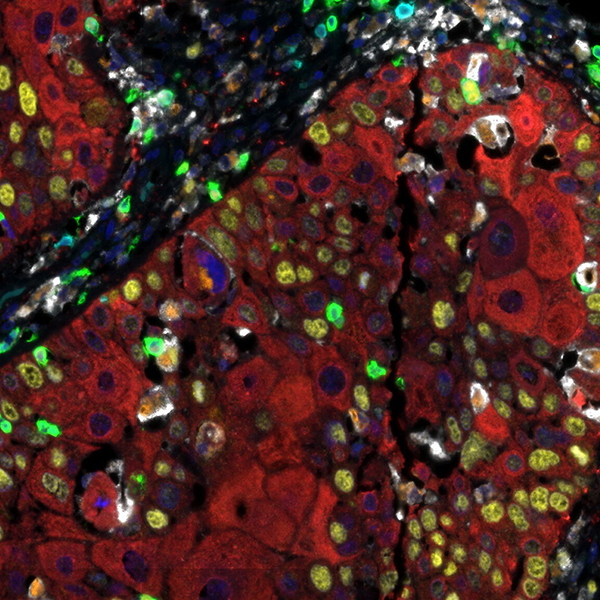 Detection of human CD3 (teal), CD8 (green), CD68 (orange), CK (red), Ki67 (yellow) and PD-L1 (white) in FFPE HNSCC by IHC-IF
What are the first products that you are producing now?
MS: Our first panels are targeted to the immuno-oncology field. We consider these panels foundational panels in that each panel contains 3 core antibodies to which the researcher can add additional antibodies in order to adjust the panel to their individual needs. These panels give the researcher the ability to visualize immune cells and checkpoint inhibitors which are proteins that downregulate T cells. T cells have the ability to target cancer cells and kill them. However, research has shown in most tumors the T cells exist in a downregulated state in which they are not actively killing tumor cells. A lot of the new immunotherapies are focused on activating T cells present in the tumor. Research into the viability of these therapies require one to profile patients to determine their level of immune cell infiltration. These first multiplex panels which we have developed will assist this profiling.
Did I understand correctly that you have a core panel that you can add different antibodies to?
MS: Yes. When we went out to beta test, the idea was that we would assemble large panels with four, six, or seven antibodies. But when we spoke with people, the first remark was always that they have their favorite two or three antibodies. So, we took a step back and got together a core group to which you can add in whatever your favorite antibody or favorite marker is. We will optimize three to four of ours plus what you choose to put in.
The AACR Annual Meeting is the world's largest cancer research conference and attracts more than 18,000 researchers each year. Since you started exhibiting at AACR, how has it changed?
SC: We have certainly seen the growth in attendance. The one major thing that we have noticed over the years is the growth in the number of competitors in the antibody space. In addition, Bethyl's brand recognition has increased substantially in the last few years.
Do you have time to visit the posters and talk to researchers outside of the booth?
SC: Yes, we do take time to visit the posters and talk with researchers outside of the booth. That is actually Mike's focus at this meeting. I have found the posters to be very informative. Many focus on multiplex IHC and have given us a few ideas for the possibility of other panels to assemble as offerings by Bethyl.
Do you visit poster sessions or also lectures?
MS: I visit both poster sessions and lectures. I really value the poster sessions. It allows for more personal interactions. During poster sessions, when there is a group of people clustered around a poster it suggests that the research is interesting. This allows me to see research which I may not have planned on examining.
What conference are you heading to next?
SC: The next meeting that we will be attending is the AACC meeting. At the AACC meeting we will be focused on promoting bulk antibody production. After the AACC meeting, we will be attending the SITC meeting. We have never exhibited at the SITC meeting in the past, but we are looking forward to it. The SITC meeting is a smaller show focused on cancer immunotherapy.