High-mobility group protein B1 (HMGB1) is a multifunctional protein with various roles in different cellular compartments. In the nucleus, HMGB1 acts as a DNA-binding protein for gene transcription, gene regulation, and DNA repair.1 In the cytosol, HMGB1 induces autophagy by interacting with Beclin-1 which results in its dissociation from Bcl-2 and the subsequent induction of autophagy.2 In the extracellular compartment, HMGB1 is passively released by necrotic cells and acts as a chemokine and DAMP (damage-associated molecular pattern) to trigger inflammatory responses.3 HMGB1 is also secreted from activated dendritic cells and macrophages and functions as a cytokine. It acts as a ligand for RAGE, TLR2 and TLR4, thus activating their signal pathways and ensuing inflammatory responses.4 The HMGB1 released from apoptotic cells is neutralized by reactive oxygen species (ROS)-dependent oxidation and thus promotes immunological tolerance.
HMGB1 in Disease
HMGB1 has attracted the attention of both basic and clinical researchers as it is associated with various pathologies such as cancer, sepsis, arteriosclerosis, chronic rheumatoid arthritis, and nephritis.5-7 HMGB1 is reported as a necrosis marker and an elevated level of HMGB1 is a good indicator of effective anticancer therapy. Extracellular HMGB1 on the other hand gained attention due to its association with cell proliferation, invasion and metastasis, angiogenesis, and immunosuppression.
HMGB1 ELISA Kits
Arigo Biolaboratories offers the most comprehensive ELISA kits to facilitate HMGB1 research as well as the development of anticancer drugs. These ELISA kits provide three advantages compared to ELISA kits from other manufacturers.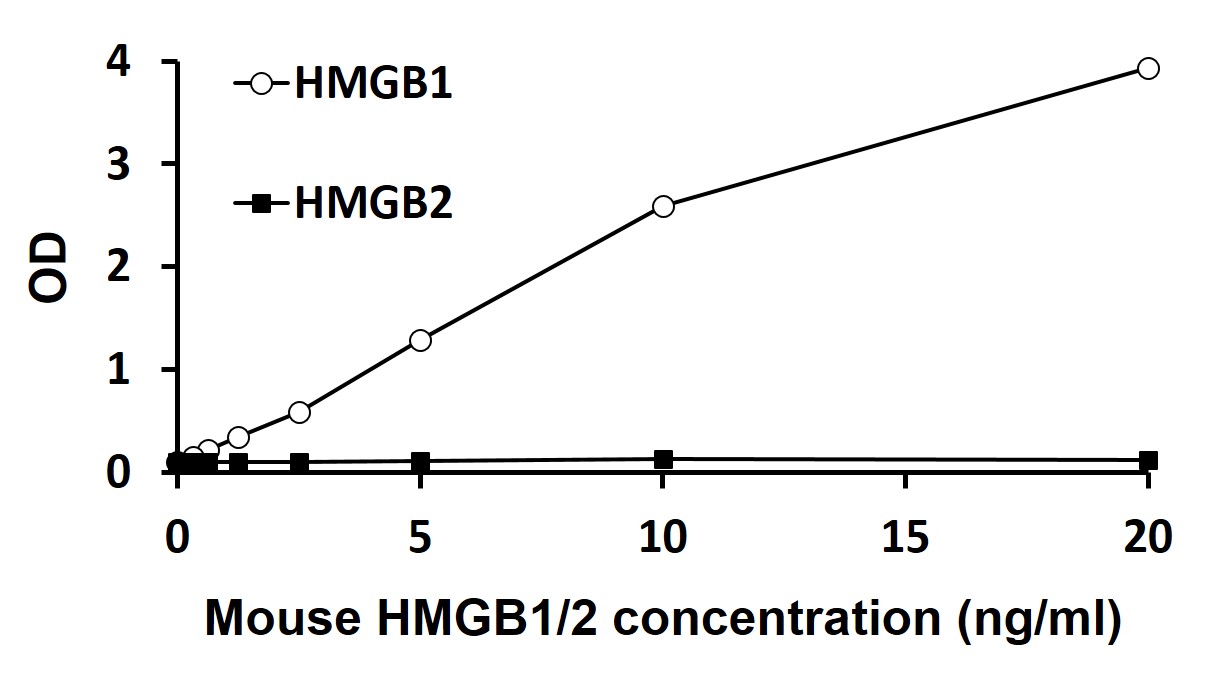 Specific
Highly specific for HMGB1 and do not cross react with HMGB2
Flexible
Suitable for multiple samples from multiple species
Easy and Fast
Requires only two incubations and one wash step
ELISA Kit Comparison
References