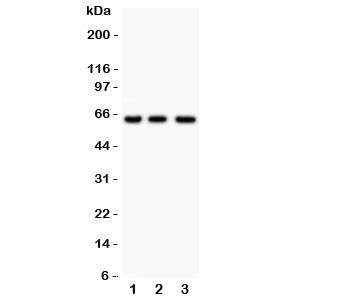 | Artikelnummer | Größe | Datenblatt | Manual | SDB | Lieferzeit | Menge | Preis |
| --- | --- | --- | --- | --- | --- | --- | --- |
| NSJ-R31513 | 100 µg | | - | - | | | 503,00 € |
0.5mg/ml if reconstituted with 0.2ml sterile DI water. Transcription factor p65, also known as...
mehr
Produktinformationen "Anti-RELA NF-kB p65"
0.5mg/ml if reconstituted with 0.2ml sterile DI water. Transcription factor p65, also known as NFKB3 or NF-kB p65, is a protein that in humans is encoded by the RELA gene. It is mapped to 11q13.1. RELA is an essential transcription factor complex involved in all types of cellular processes, including cellular metabolism, chemotaxis, etc, and it may play a role in inflammatory conditions of the peripheral nervous system. Phosphorylation and acetylation of RELA are crucial post-translational modifications required for NFkB activation. It has also been shown to modulate immune responses, and activation of the protein is positively associated with multiple types of cancer. In addition, RELA antagonizes TNFR1-JNK proliferative signals in epidermis and plays a nonredundant role in restraining epidermal growth. Protein function: NF-kappa-B is a pleiotropic transcription factor present in almost all cell types and is the endpoint of a series of signal transduction events that are initiated by a vast array of stimuli related to many biological processes such as inflammation, immunity, differentiation, cell growth, tumorigenesis and apoptosis. NF-kappa-B is a homo- or heterodimeric complex formed by the Rel-like domain-containing proteins RELA/p65, RELB, NFKB1/p105, NFKB1/p50, REL and NFKB2/p52 and the heterodimeric p65-p50 complex appears to be most abundant one. The dimers bind at kappa-B sites in the DNA of their target genes and the individual dimers have distinct preferences for different kappa-B sites that they can bind with distinguishable affinity and specificity. Different dimer combinations act as transcriptional activators or repressors, respectively. NF-kappa-B is controlled by various mechanisms of post-translational modification and subcellular compartmentalization as well as by interactions with other cofactors or corepressors. NF-kappa-B complexes are held in the cytoplasm in an inactive state complexed with members of the NF-kappa-B inhibitor (I-kappa-B) family. In a conventional activation pathway, I-kappa-B is phosphorylated by I-kappa-B kinases (IKKs) in response to different activators, subsequently degraded thus liberating the active NF-kappa-B complex which translocates to the nucleus. NF-kappa-B heterodimeric p65-p50 and RelB-p50 complexes are transcriptional activators. The NF-kappa-B p50-p50 homodimer is a transcriptional repressor, but can act as a transcriptional activator when associated with BCL3. NFKB1 appears to have dual functions such as cytoplasmic retention of attached NF-kappa-B proteins by p105 and generation of p50 by a cotranslational processing. The proteasome-mediated process ensures the production of both p50 and p105 and preserves their independent function, although processing of NFKB1/p105 also appears to occur post-translationally. p50 binds to the kappa-B consensus sequence 5'-GGRNNYYCC-3', located in the enhancer region of genes involved in immune response and acute phase reactions. In a complex with MAP3K8, NFKB1/p105 represses MAP3K8-induced MAPK signaling, active MAP3K8 is released by proteasome-dependent degradation of NFKB1/p105. [The UniProt Consortium]
| | |
| --- | --- |
| Schlagworte: | Anti-NFKB1, RELA Antibody NF-kB p65 |
| Hersteller: | NSJ Bioreagents |
| Hersteller-Nr: | R31513 |
Eigenschaften
| | |
| --- | --- |
| Anwendung: | WB |
| Antikörper-Typ: | Polyclonal |
| Konjugat: | No |
| Wirt: | Rabbit |
| Reaktivität: | Human |
| Immunogen: | Human partial recombinant protein (AA 99-551) was used as the immunogen for this RELA antibody. |
| Format: | Purified |
Handhabung & Sicherheit
| | |
| --- | --- |
| Lagerung: | +4°C |
| Versand: | +4°C (International: +4°C) |
Achtung
Nur für Forschungszwecke und Laboruntersuchungen: Nicht für die Anwendung im oder am Menschen!
Hier kriegen Sie ein Zertifikat
Bewertungen lesen, schreiben und diskutieren...
mehr
Kundenbewertungen für "Anti-RELA NF-kB p65"