Cookie preferences
This website uses cookies, which are necessary for the technical operation of the website and are always set. Other cookies, which increase the comfort when using this website, are used for direct advertising or to facilitate interaction with other websites and social networks, are only set with your consent.
These cookies are necessary for the basic functions of the shop.
"Allow all cookies" cookie
"Decline all cookies" cookie
Customer-specific caching
These cookies are used to make the shopping experience even more appealing, for example for the recognition of the visitor.
Show the facebook fanpage in the right blod sidebar
Conversion and usertracking via Google Tag Manager
Products from United States Biological

United States Biological (USBiological) is located in Swampscott in Massachusetts, USA. It's production capabilities include antibiotics, antibodies, agarose, albumin, amino acids, biochemicals, biologicals, cytokines, enzymes, media, molecular biology kits, peptides and serum. All products are supplied with certified testing results. USBio provides a huge selection of antibodies.
More information at: www.usbio.net
No results were found for the filter!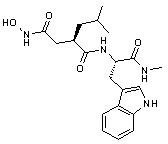 GM6001 (Ilomastat, MMP Inhibitor, Galardin)
Item number: G8237.1

GM6001 MMP Inhibitor (Ilomastat) is a potent inhibitor of collagenase. Broad spectrum inhibitor of matrix metalloproteases (MMPs) with Ki factor in nM range. Widely used to inhibit MMPs in vitro experiments and in animal models. Nomenclature: N-[(2R)-2-(hydroxamidocarbonylmethyl)-4-methylpentanoyl]-L-tryptophan...
| | |
| --- | --- |
| CAS | 142880-36-2 |
| MW: | 388.47 D |

MOPS Free Acid (Morpholinopropanesulfonic acid)
Item number: M4610.500

MOPS Free Acid is a biological buffer (zwitterionic) designed by Good, et al., and typically referred to as Good's buffer useful in cell culture media formulations. Selection of biological buffer systems should include the following criteria: exclusion by biological membranes, low absorption between 240 and 700nm,...
| | |
| --- | --- |
| CAS | 1132-61-2 |
| MW: | 209.30 D |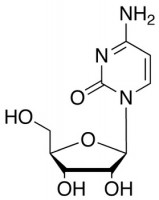 Cytidine (Cytosine-beta-D-riboside)
Item number: C9090-05.250

A constituent of nucleic acids, isolated from yeast nucleic acid. Melting Point: 212-214?C, Loss on Drying: <0.5%, Solubility: DMSO, Water, Absorbance A250/A260: 0.40-0.50, Absorbance A280/A260: 2.05-2.15, Residue on Ignition: <0.1%, Heavy Metals: <0.001%, Storage and Stability: Powder may be stored at 4°C. Stable...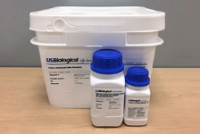 Dulbecco's MEM (DMEM) w/o Glucose, Glutamine, Serine,...
Item number: D9802-01.10

Dulbecco's MEM is the most widely used modification of BME. It contains a 4-fold higher concentration of amino acids and vitamins. Non-essential amino acids and certain essential trace elements were added. The bicarbonate concentration was increased. The standard formula for DMEM is with 1000mg/ml glucose. DMEM was...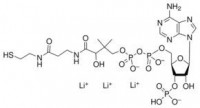 Coenzyme A, Lithium Salt
Item number: C7505-51.25

Coenzyme A (CoA, CoASH, HSCoA) is a coenzyme that facilitates enzymatic acyl-group transfer reactions and supports the synthesis and oxidation of fatty acids. CoA is involved in the mechanisms of a wide variety of enzymes. Source: Yeast, Synonyms: CoA trilithium salt, CoA, CoASH, HSCoA, CAS No: 18439-24-2, Molecular...
| | |
| --- | --- |
| CAS | 18439-24-2 |
| MW: | 774.49 |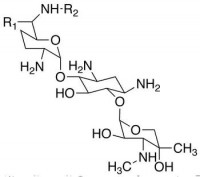 Gentamycin (Gentamicin) Sulfate USP (Micromonospora...
Item number: G2030.5

Broad spectrum, cell culture aminoglycoside antibiotic that is non toxic to viruses and mammalian cells at antibacterial levels. Inhibits growth of gram positive and negative bacteria, and mycoplasma. Inhibits normal protein synthesis by binding to L6 protein of 50S ribosomal subunit. Useful antibiotic for...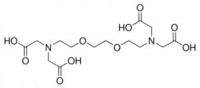 EGTA (Ethyleneglycol-bis-(2 aminoethylether)-N,N.N'...
Item number: E2215.10

Chelating agent for the determination of calcium. Synonyms: Ethyleneglycol-bis-(2 aminoethylether)-N,N.N',N'-tetraacetic acid, Glycol ether diamine tetraacetic acid, Egtazic acid, CAS No: 67-42-5, Molecular Formula: C14H24N2O10, Molecular Weight: 380.35, Appearance: White crystalline powder, Purity: >98%, Solubility...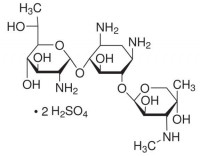 G418 Sulfate (Geneticin)
Item number: G1000.1

G418 Sulfate is an aminoglycoside related to Gentamycin, used as a selective agent in bacterial genetics. It is toxic to yeast, bacteria, many plant and mammalian cells, helminths and protozoans. Appearance: White, crystalline powder, Solubility: Colorless, clear, complete, Potency: >620ug/mg, Suggested Working...
| | |
| --- | --- |
| CAS | 108321-42-2 |
| MW: | 692.70 D |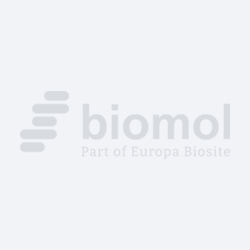 Lipoxin A4 (LXA4) BioAssay ELISA Kit,
Item number: L2622-20.1

Lipoxin A4 (LXA4) is a biologically active lipoxygenase interaction product derived from arachidonic acid. Arachidonic acid is first oxygenated by 15-lipoxygenase to form 15-HETE which is then converted by 5-lipoxygenase and epoxide hydrase to generate LXA4. LXA4 stimulates leukocyte chemotaxis without aggregation...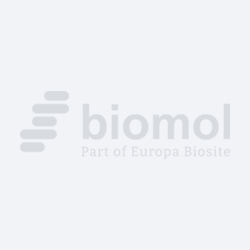 Nematode Growth Medium (NGM) (Powder)
Item number: N1000.1

A standard preparation for use in Nematode growth studies. Appearance: Light tan to pale yellow, homogeneous, free flowing powder, Solubility without autoclaving: Light tan, incomplete, Solubility with autoclaving: Light tan, clear, complete, pH with autoclaving: As Reported, Protocol: Cooling the N1000 solution...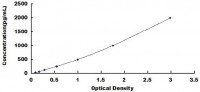 Complement Component 3a (C3a) BioAssay(TM) ELISA Kit...
Item number: 152433.96

Complement Component 3a (C3a) BioAssay(TM) ELISA Kit is a sandwich enzyme immunoassay for in vitro quantitative measurement of C3a in porcine serum, plasma and other biological fluids. Detection Range: 31.2-2000pg/ml, Sensitivity: 12.7pg/mlg/ml, Intra-Assay: CV <10% , Inter-Assay: CV <12%, Kit Components:...

Guanidine Hydrochloride (Aminomethanamidine hydrochloride)
Item number: G9010.500

Guanidine Hydrochloride is used as a common protein denaturant in the purification and extraction of mRNA, nucleic acids and proteins from cellular material. It acts as a strong RNase inhibitor, protecting cellular transcripts from degradation during tissue extraction. Synonyms: Aminomethanamidine...