What is your role at ICT, and how long have you been with the company?
I am Sally Hed Dahlquist, and I am the president and owner of ImmunoChemistry Technologies. I was one of the original employees with the company back when they started in 1994, and the owners could not pay me, so they gave me stock instead. Eventually when they retired I bought them out. So, I guess that makes me a unicorn. I started as a lab scientist, and now, I am the owner.
What major product lines do you offer to the research community?
We have two very distinct product lines. One is our ELISA solutions for people who are making their own assays in-house. They can buy a coating buffer, a blocking buffer, a conjugate stabilizer, and make their own quality assay. Our other product lines are for cell viability assays including FLICA®, FLIVO®, and Magic Red®. So, you can analyze cell viability, cell death, and apoptosis via caspase activity, either in vitro, in a petri dish, or in vivo by injecting it directly into the animal.
What is the history behind your company name?
Our name is ImmunoChemistry Technologies and that is a mouthful—it is a very long name. We originally picked the name because of our assay development services. We were developing ELISA kits, which are enzyme-linked immunosorbent assays—immunochemistry assays. Therefore, we became ImmunoChemistry Technologies, which we shortened to ICHEM. But then we got a cease and desist letter from Nalgene® because they have bottles that were also called ICHEM. So, we had to shorten it again to just ICT. We had a designer come in and develop the logo for us, which is very cute. It looks like a little antibody with an antigen binding to it, as a symbol of our assay development services and the ELISA buffers that we sell. People do ask us if we carry antibodies and actually, we do not, but we can have antibodies made if somebody needs them.

What was the first product that ICT sold?
We initially started selling services, which was developing tests for other people, and we initially landed some jobs because we put a little teeny-tiny one-inch ad back in the back page of Nature Methods. A scientist from a food science company called us and said they needed help to develop a test. So, we started off as a service company and then, as part of that, we started selling our ELISA buffers because we found some people who just needed a little bit of help improving their assays. They would call us with background issues or because they could not get a good positive signal. And we had some really good products that would work to solve that, because we developed so many assays over the years that we had come up with these formulations to solve some pretty unique problems with the assay. Now that means that, when people are having problems with their assay, we get the hard questions. But we can fix it.
Sounds like a nice conversion rate.
It basically started the whole company. I mean, we were never in somebody's garage. The founders of the company actually rented a lab space right away and it was in the building where General Mills first started, where they invented Cheerios cereal.
Your company is based in Bloomington, Minnesota. When looking up facts about Bloomington, the first thing that pops up is the Mall of America, the second largest shopping mall in the US. One of the more interesting things to see there is a red seat hanging on a wall. Have you ever noticed this while shopping?
Oh yes. We have absolutely noticed the red seat hanging on the wall. The Mall of America in Bloomington is just dangerously close to our office. It is only about two or three miles away, and I drive by it every day on my way to work.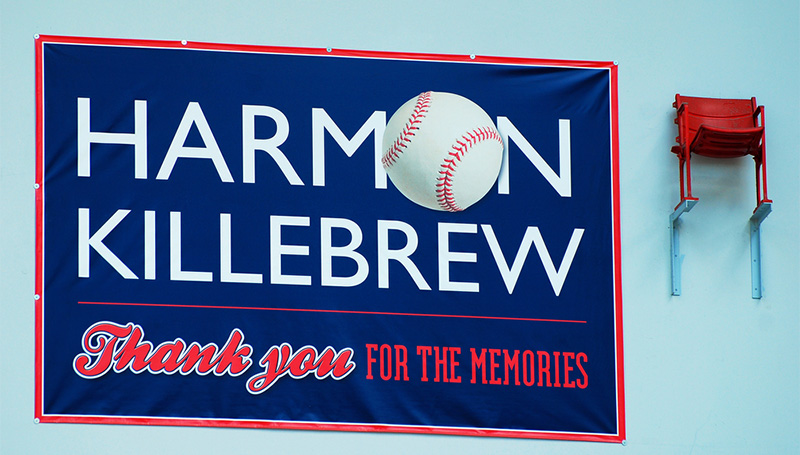 Image source: shutterstock.com
So you probably know all the other things that are hidden there.
Yes. We know a lot of people who work there. So, it is always fun to stop in and visit. In the winter time it is really nice because the center of the mall is covered and there are windows to let the sunlight in. It gets really warm and nice. It feels like a little bit of the tropics. So, we get a bit of a mini vacation.
And you can even go on a rollercoaster ride in the middle of the mall.
Yes! And that is really fun too. You can get married there, you can go to school there, and there is a university. There is even a wedding chapel. Before the mall was built there, it was the Metropolitan Stadium, where the baseball field was. It was a really important sports venue in Minnesota. They had a lot of big concerts there. I went to one of my first concerts there, seeing Culture Club. And one of the founders of our company, Dr. Brian Lee, used to work at the baseball stadium, selling beer and peanuts, going up and down the stairs. He said that is how he paid his way through college. He grew up in Richfield which is the suburb next to Bloomington, just a mile or so from the Mall of America, or rather where it is now. He grew up there, playing in the ball fields and then he and I actually both went to Normandale Community College which is in Bloomington also. Later we both went to the University of Minnesota. We are mostly local.
Was it always taken positively when they announced that they would tear down the stadium for a shopping mall?
Well, they had already built the Metrodome and they were looking for a good way to redevelop the site. It is right next to the MSP airport as well. They talked about expanding the airport but did not want more noise to come into the city. They could have expanded the housing, but they wanted to put in a train system too, a light rail transit system, because Minneapolis is growing up as a city. We got the train and it was a really good way to connect downtown Minneapolis with the airport, with the shopping mall, and now that train is even connected with downtown St. Paul, the capital.
You recently relaunched FLIVO® for assessing caspase activity in vivo. Please tell us more about it.
That is very exciting. We initially developed our FLIVO® product line in 2005, and we got a patent granted for it in 2012. The following year we actually kind of split the company. One of our founders took the patent with him and was promoting FLIVO® with his new company. In 2018, I bought the patent back from that company. He is retired doing his own thing and now ImmunoChemistry owns FLIVO® again, and we have been relaunching it. We are very excited about it, because it is a way to image cell death in vivo. All you need to do is inject the reagent directly into the animal first and then either read it in a whole animal imager or sacrifice the animal, make thin tissue sections, and analyze the tissue with a microscope, a plate reader, or a flow cytometer. It is a really easy way of doing a direct stain for cell death without getting artifacts of processing. By doing this, you can actually determine the effectiveness of chemotherapy. For example, if the animal receives chemo or a drug treatment or radiation, you can then inject it with FLIVO® and within 15 minutes cells that are dying will start to turn color. They will turn green or red or near-infrared and then you can analyze it to tell right away if that drug is going to work or not.
Is it easy to pick up from two years ago, when you stopped selling FLIVO®?
Well, now we have four products. We have one in green, which is carboxyfluorescein, and one in red, which is sulfur rhodamine. Then we have two products using near-infrared, one at 690 nm and one at 747 nm. We had to change some of the paperwork. Additionally, we now have over 100 publications using FLIVO®. So, we have been going through and updating all the technical data and making connections again with the instrument people. There is a lot of new whole animal imagers that can be used, that are compatible with FLIVO®. Now we are getting it out there and letting researchers know that this product is available again, and we are excited to offer it. It could revolutionize cancer treatment. Some day we hope that we will be able to even use it to image, for example, damage during a heart attack. If someone is having a heart attack, then they could potentially be injected with this reagent and you could image it in real time and watch the damage that is occurring and give them treatment before it gets worse. It could help determine a better treatment protocol for cancer and other diseases that cause cell death.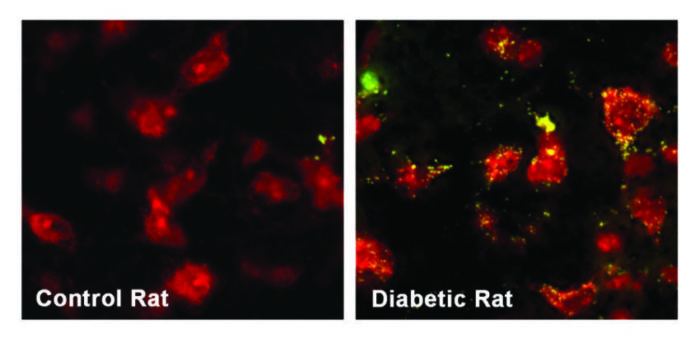 Caspase activity in rat brain: Using FAM-FLIVO to monitor cell death, there is a clear distinction between healthy and apoptotic neurons.
The AACR Annual Meeting is the world's largest cancer research conference and attracts more than 18,000 researchers each year. Since you started exhibiting at AACR, how has it changed?
I love AACR. I think we started coming in 2003 or 2004. It has been a long time, many years, and it is my favorite conference because most of our customers are in cancer research. It is really exciting to hear all the different ways people are using our products, ways I never thought of before. This way we are just always learning something new, and it really makes me feel positive about all the research that is going on in the world. That we will actually be able to cure a lot of these diseases. Everyone here is a scientist and they are very specialized in each of the biochemical pathways that they study. There are a million reasons why people get cancer, and there is somebody here who is probably investigating that. And with the critical mass we have, especially with the United States, Germany, Japan, the UK, and Canada, just leading the world in research in general, I think we will get there. We will start finding these cures in the next generation.
Have you noticed the conference changing over all these years?
It seems to get bigger all the time.
But there were also some new topics coming up like immunotherapy.
And CRISPR is huge again this year. Now we are hoping that maybe FLIVO® will start exploding here. They have taken advantage of more of the electronic technology where you can access the posters and the sessions in advance and find the abstracts easier. I like that a lot.
Is it new that they stream the lectures, or have they done that before?
I do not know when they started doing that, but it makes all the research data more accessible for everyone. Even if you cannot attend the conference, at least you can find the content. Again, it is just part of the global initiative to improve human health, and I think AACR is really making great strides in helping that.
Do you have time to visit the posters and talk to researchers outside of the booth?
Not as much as I want. For this trip, we only brought the two of us, which has been really fun. But it also means that we have to stay here in the booth to make sure that we can interact with the people who come by, visiting people like you. So, it is a great way for us to meet our international distributors as well. We get to see customers and distributors, and I can connect with some vendors like the instrument companies. It is just overall a really good conference.
What conference are you heading to next?
We are going to AACC, which is American Association of Clinical Chemistry. And that meeting typically focuses on our other product line, which is the ELISA solutions—that is clinical diagnostics in the US. Here at AACR we tend to get more interest in our cell viability reagents.
These two seem to be an obvious follow-up.
At the moment we are just fighting over who gets to go to AACC, because it is in Los Angeles this year.
It is definitely warmer there!
It will be hot. It will be hot in August.