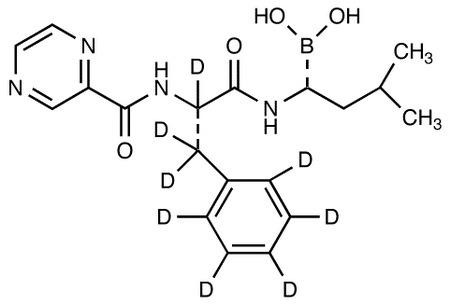 | Item number | Size | Datasheet | Manual | SDS | Delivery time | Quantity | Price |
| --- | --- | --- | --- | --- | --- | --- | --- |
| B2572-01.1 | 1 mg | | - | - | | | 554.00€ |
Bortezomib is the first proteasome inhibitor to be approved b the US FDA for multiple myeloma, a...
more
Product information "Bortezomib, deuterated"
Bortezomib is the first proteasome inhibitor to be approved b the US FDA for multiple myeloma, a blood cancer. A reversible inhibitor of the 26S proteasome-a barrel-shaped multiprotein particle found in the nucleus and cytosol of all eukaryotic cells. Solubility: Chloroform, DMSO, Ethanol, Methanol, Stability: Hygroscopic and moisture sensitive, Atmosphere: Inert gas, Method for determining Identity: Proton NMR and Mass Spectroscopic Analysis, Melting Point: 115-117ºC, TLC Conditions: SiO2: Dichloromethane: Methanol, 12:1, visualized with UV, Single spot, Rf=0.4, Storage and Stability: May be stored at RT for short-term only. Long-term storage is recommended at -20°C. For maximum recovery of product, centrifuge the original vial prior to removing the cap. Toxicity and Hazards: Due to the potential danger associated with the use of some of United States Biological biochemicals, all products should be handled by qualified personnel only, trained in laboratory procedures, and familiar with potential hazards. Information is not available on the possible hazards of many experimental compounds. The absence of a warning must not be interpreted as indication of safety. The ultimate responsibility for the proper handling of any and all chemicals lies with the user. All goods sold by United States Biological carry the condition that liability for any injury, loss or damage whatsoever to persons or real property resulting from the handling of the said goods lies with the user. Acceptance of our goods binds the customer to these terms.
Handling & Safety
| | |
| --- | --- |
| Storage: | -20°C |
| Shipping: | +20°C (International: +20°C) |
| Signal Word: | Warning |
| GHS Hazard Pictograms: | |
| H Phrases: | H302, H315, H319, H335 |
Caution
Our products are for laboratory research use only: Not for administration to humans!
You will get a certificate here
Read, write and discuss reviews...
more