Cookie preferences
This website uses cookies, which are necessary for the technical operation of the website and are always set. Other cookies, which increase the comfort when using this website, are used for direct advertising or to facilitate interaction with other websites and social networks, are only set with your consent.
These cookies are necessary for the basic functions of the shop.
"Allow all cookies" cookie
"Decline all cookies" cookie
Customer-specific caching
These cookies are used to make the shopping experience even more appealing, for example for the recognition of the visitor.
Show the facebook fanpage in the right blod sidebar
Conversion and usertracking via Google Tag Manager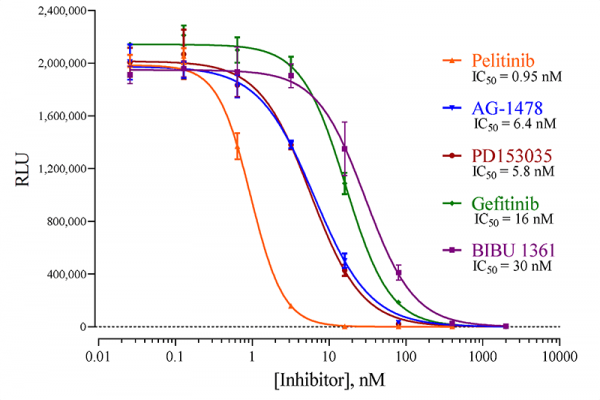 | Item number | Size | Datasheet | Manual | SDS | Delivery time | Quantity | Price |
| --- | --- | --- | --- | --- | --- | --- | --- |
| IB-IB13001 | 96 wells (1 x 96-well format assays) | | - | - | | | 1,161.00€ |
| IB-IB13001-32 | 96 wells (3 x 32 assays in 96-well format) | | - | - | | | 1,229.00€ |
Protein function: Receptor tyrosine kinase binding ligands of the EGF family and activating...
more
Product information "Epidermal Growth Factor Receptor 1 (EGFR1) (Human) Reporter Assay System"
Protein function: Receptor tyrosine kinase binding ligands of the EGF family and activating several signaling cascades to convert extracellular cues into appropriate cellular responses (PubMed:2790960, PubMed:10805725, PubMed:27153536). Known ligands include EGF, TGFA/TGF-alpha, AREG, epigen/EPGN, BTC/betacellulin, epiregulin/EREG and HBEGF/heparin- binding EGF (PubMed:2790960, PubMed:7679104, PubMed:8144591, PubMed:9419975, PubMed:15611079, PubMed:12297049, PubMed:27153536, PubMed:20837704). Ligand binding triggers receptor homo- and/or heterodimerization and autophosphorylation on key cytoplasmic residues. The phosphorylated receptor recruits adapter proteins like GRB2 which in turn activates complex downstream signaling cascades. Activates at least 4 major downstream signaling cascades including the RAS-RAF-MEK- ERK, PI3 kinase-AKT, PLCgamma-PKC and STATs modules (PubMed:27153536). May also activate the NF-kappa-B signaling cascade (PubMed:11116146). Also directly phosphorylates other proteins like RGS16, activating its GTPase activity and probably coupling the EGF receptor signaling to the G protein-coupled receptor signaling (PubMed:11602604). Also phosphorylates MUC1 and increases its interaction with SRC and CTNNB1/beta-catenin (PubMed:11483589). Positively regulates cell migration via interaction with CCDC88A/GIV which retains EGFR at the cell membrane following ligand stimulation, promoting EGFR signaling which triggers cell migration (PubMed:20462955). Plays a role in enhancing learning and memory performance. [The UniProt Consortium] Kits are offered in different assay formats to accommodate researchers' needs: 3x 32, 1x 96, and 1x 384 assay formats for screening small numbers of test compounds, as well as custom bulk reagents for HTS applications. Assay systems are all inclusive, providing reporter cells, optimized growth media, media for diluting test compounds, a positive-control agonist, luciferase detection reagent, a white assay plate, a detailed protocol, and a protocol quick guide. All kits are shipped on dry ice. Reporter Cells are transiently transfected and prepared as frozen stocks using INDIGO's proprietary CryoMite(TM) process. This cryo-preservation method allows for the immediate dispensing of of healthy, division-competent reporter cells into assay plates. There is no need for cumbersome intermediate treatment steps such as spin-and-rinse of cells, viability determinations, or cell titer adjustments prior to assay setup. INDIGO's EGFR1 assay kit provides the convenience of an all-inclusive cell-based assay system. In addition the the EGFR1 Reporter Cells, provided are two optimized media for use in recovering the cryopreserved cells and for diluting test samples. Also included is the reference agonist EGF, Luciferase Detection Reagents, and a cell culture-ready assay plate. EGFR1 is a single-pass transmembrane receptor, one of four members of the receptor tyrosine kinase (RTK) family. Binding interactions with extra-cellular signaling peptides such a epidermal growth factor (EGF), transforming growth factor alpha (TGFalpha), or amphiregulan lead to receptor dimerization and auto-phosphorylation and activation of associated intracellular signaling proteins. Interestingly, EFG Receptors demonstrate two alternative signal processing modes: one via the membrane-bound receptor and signaling at cell surface, and the other signaling through internalized receptors, nuclear translocation, and co-association with activated transcription factors to interact directly with target gene promoter sequences. Activated EGF Receptors are known to signal through several different pathways, including those mediated by Ras, PI3K, PLC-gamma, and JAK, culminating in the activation of specific transcription factors and the induction of respective target genes. phosphorylation and activation of the transcription factor STAT3 is one prominent pathway utilized by EGFR1, and it is the signaling mechanism exploited by the reporter cells in the INDIGO kit. INDIGO's reporter cells contain the luciferase gene functionally linked to an upstream minimal promoter and tandem STAT3 genetic response element (GRE) sequences. Activated, dimeric STAT3P (or STAT3P associated with nuclear EGFR1P) bind the STAT3 GREs to initiate the formation of a complete transcription complex that drives Luc expression. Quantifying relative changes in luciferase activity in the treated reporter cells relative to the untreated cells provides a sensitive, dose-dependent surrogate measure of drug- or antibody-induced changes in EGFR1 activity. Considering their significant role in rapid cell proliferation, and their involvement in the progression of many types of cancers, EFGR continues to command much interest as a target for the development of novel, specific, and predominantly inhibitory drugs and antibodies. Accordingly, the primary application of this EGFR1 Reporter Assay is to screen test materials for any functional activity, either agonist or inhibitory, that they may exert aginst the EGFR1.
| | |
| --- | --- |
| Keywords: | ERBB, EGFR, EC=2.7.10.1, Proto-oncogene c-ErbB-1, Epidermal growth factor receptor, Receptor tyrosine-protein kinase erbB-1 |
| Supplier: | Indigo Biosciences |
| Supplier-Nr: | IB13001 |
Properties
| | |
| --- | --- |
| Application: | Functional activity screening |
| Reactivity: | Human |
| Format: | Solid Phase |
Handling & Safety
| | |
| --- | --- |
| Storage: | -80°C |
| Shipping: | -80°C (International: °C) |
Caution
Our products are for laboratory research use only: Not for administration to humans!
You will get a certificate here
Read, write and discuss reviews...
more