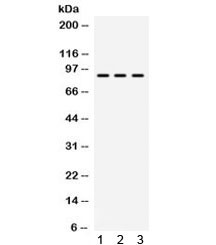 | Item number | Size | Datasheet | Manual | SDS | Delivery time | Quantity | Price |
| --- | --- | --- | --- | --- | --- | --- | --- |
| NSJ-R32188 | 100 µg | | - | - | | | 503.00€ |
0.5mg/ml if reconstituted with 0.2ml sterile DI water. Transporter associated with Antigen...
more
Product information "Anti-TAP1"
0.5mg/ml if reconstituted with 0.2ml sterile DI water. Transporter associated with Antigen Processing 1 is a protein that in humans is encoded by the TAP1 gene. The membrane-associated protein encoded by this gene is a member of the superfamily of ATP-binding cassette (ABC) transporters. ABC proteins transport various molecules across extra- and intra-cellular membranes. And ABC genes are divided into seven distinct subfamilies (ABC1, MDR/TAP, MRP, ALD, OABP, GCN20, White). This protein is a member of the MDR/TAP subfamily. Members of the MDR/TAP subfamily are involved in multidrug resistance. The protein encoded by this gene is involved in the pumping of degraded cytosolic peptides across the endoplasmic reticulum into the membrane-bound compartment where class I molecules assemble. Mutations in this gene may be associated with ankylosing spondylitis, insulin-dependent diabetes mellitus, and celiac disease. Two transcript variants encoding different isoforms have been found for this gene. Protein function: Involved in the transport of antigens from the cytoplasm to the endoplasmic reticulum for association with MHC class I molecules. Also acts as a molecular scaffold for the final stage of MHC class I folding, namely the binding of peptide. Nascent MHC class I molecules associate with TAP via tapasin. Inhibited by the covalent attachment of herpes simplex virus ICP47 protein, which blocks the peptide-binding site of TAP. Inhibited by human cytomegalovirus US6 glycoprotein, which binds to the lumenal side of the TAP complex and inhibits peptide translocation by specifically blocking ATP-binding to TAP1 and prevents the conformational rearrangement of TAP induced by peptide binding. Inhibited by human adenovirus E3-19K glycoprotein, which binds the TAP complex and acts as a tapasin inhibitor, preventing MHC class I/TAP association. Expression of TAP1 is down-regulated by human Epstein-Barr virus vIL-10 protein, thereby affecting the transport of peptides into the endoplasmic reticulum and subsequent peptide loading by MHC class I molecules. [The UniProt Consortium]
| | |
| --- | --- |
| Keywords: | Anti-TAP1, Anti-APT1, Anti-PSF-1, Anti-ABCB2, Anti-Peptide supply factor 1, Anti-Peptide transporter PSF1, Anti-Peptide transporter TAP1, Anti-Antigen peptide transporter 1, Anti-Really interesting new gene 4 protein, TAP1 Antibody |
| Supplier-Nr: | R32188 |
Properties
| | |
| --- | --- |
| Application: | WB, IHC (paraffin) |
| Antibody Type: | Polyclonal |
| Host: | Rabbit |
| Reactivity: | Human |
| Immunogen: | Amino acids RSFANEEGEAQKFREKLQEIKTLNQKEAVAYAVN of human TAP1 were used as the immunogen for the TAP1 antibody. |
| Format: | Purified |
Handling & Safety
| | |
| --- | --- |
| Storage: | -20°C |
| Shipping: | -20°C (International: -20°C) |
Caution
Our products are for laboratory research use only: Not for administration to humans!
You will get a certificate here
Read, write and discuss reviews...
more