Free Wall Calendar 2022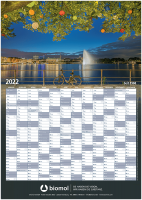 It has become a Biomol tradition to give away Biomol wall calendars at the end of the year to say thank you. The motif 2022 shows the beautiful Alster in Hamburg. You can request a calendar for your lab simply by filling out the form below.

Please note: This offer is restricted to scientists and purchasers at research institutes and not intended for private individuals. As long as stocks last.