Cookie preferences
This website uses cookies, which are necessary for the technical operation of the website and are always set. Other cookies, which increase the comfort when using this website, are used for direct advertising or to facilitate interaction with other websites and social networks, are only set with your consent.
These cookies are necessary for the basic functions of the shop.
"Allow all cookies" cookie
"Decline all cookies" cookie
Customer-specific caching
These cookies are used to make the shopping experience even more appealing, for example for the recognition of the visitor.
Show the facebook fanpage in the right blod sidebar
Conversion and usertracking via Google Tag Manager
Products from Bethyl Laboratories

Bethyl Laboratories is based in Montgomery, Texas, USA. Bethyl's mission is to be the premier provider of polyclonal antibodies to the research market. Bethyl will do this by continuous identfication of new and emerging proteins of interest through collaborations and scholarly searches. Bethyl Labs is unique in their end-to-end control of the entire antibody lifecycle. From the veterinary facilities to the development, production and validation labs, the Bethyl team focuses on delivering quality products. This attention to quality at every step and the integration across each stage of the process means scientists can rely on Bethyl antibodies.
More information at: www.bethyl.com
No results were found for the filter!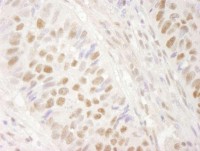 Anti-BRG1/SMARCA4 (IHC)
Item number: IHC-00466

Protein function: Transcriptional coactivator cooperating with nuclear hormone receptors to potentiate transcriptional activation. Component of the CREST-BRG1 complex, a multiprotein complex that regulates promoter activation by orchestrating a calcium-dependent release of a repressor complex and a recruitment of an...
| | |
| --- | --- |
| Keywords: | Anti-SMARCA4, Anti-BAF190A, Anti-SNF2-beta, EC=3.6.4.-, Anti-Protein BRG-1, Anti-Protein brahma homolog 1,... |
| Application: | IHC |
| Reactivity: | Human, Mouse |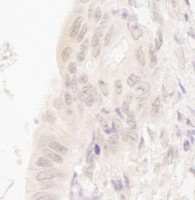 Anti-CASC5 (IHC)
Item number: IHC-00500

Protein function: Performs two crucial functions during mitosis: it is essential for spindle-assembly checkpoint signaling and for correct chromosome alignment. Required for attachment of the kinetochores to the spindle microtubules. Directly links BUB1 and BUB1B to kinetochores. Part of the MIS12 complex, which may...
| | |
| --- | --- |
| Keywords: | Anti-CT29, Anti-CASC5, Anti-Blinkin, Anti-AF15q14, Anti-KIAA1570, Anti-Protein CASC5, Anti-Protein D40/AF15q14,... |
| Application: | IHC |
| Reactivity: | Human |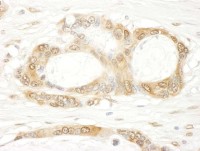 Anti-YAP1 (IHC)
Item number: IHC-00665

Protein function: Transcriptional regulator which can act both as a coactivator and a corepressor and is the critical downstream regulatory target in the Hippo signaling pathway that plays a pivotal role in organ size control and tumor suppression by restricting proliferation and promoting apoptosis...
| | |
| --- | --- |
| Keywords: | Anti-YAP1, Anti-YAP65, Anti-Protein yorkie homolog, Anti-Yes-associated protein 1, Anti-Transcriptional coactivator YAP1,... |
| Application: | IHC, IHC-IF |
| Reactivity: | Human |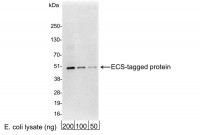 Anti-ECS (DDDDK)
Item number: A190-101A

| | |
| --- | --- |
| Keywords: | Anti-FLAG-Tag |
| Application: | WB, IP, ICC, ELISA |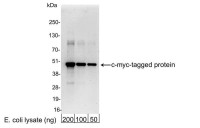 Anti-c-myc
Item number: A190-104A

Protein function: Transcription factor that binds DNA in a non-specific manner, yet also specifically recognizes the core sequence 5'- CAC[GA]TG-3'. Activates the transcription of growth-related genes. [The UniProt Consortium]
| | |
| --- | --- |
| Keywords: | Anti-MYC, Anti-bHLHe39, Anti-BHLHE39, Anti-Proto-oncogene c-Myc, Anti-Transcription factor p64, Anti-Myc proto-oncogene... |
| Application: | WB, IP, ICC, ELISA |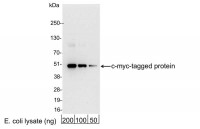 Anti-c-myc, HRP conjugated
Item number: A190-104P

Protein function: Transcription factor that binds DNA in a non-specific manner, yet also specifically recognizes the core sequence 5'- CAC[GA]TG-3'. Activates the transcription of growth-related genes. [The UniProt Consortium]
| | |
| --- | --- |
| Keywords: | Anti-MYC, Anti-bHLHe39, Anti-BHLHE39, Anti-Proto-oncogene c-Myc, Anti-Transcription factor p64, Anti-Myc proto-oncogene... |
| Application: | WB, IHC, ICC, ELISA |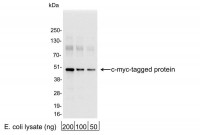 Anti-c-myc
Item number: A190-105A

Protein function: Transcription factor that binds DNA in a non-specific manner, yet also specifically recognizes the core sequence 5'- CAC[GA]TG-3'. Activates the transcription of growth-related genes. [The UniProt Consortium]
| | |
| --- | --- |
| Keywords: | Anti-MYC, Anti-bHLHe39, Anti-BHLHE39, Anti-Proto-oncogene c-Myc, Anti-Transcription factor p64, Anti-Myc proto-oncogene... |
| Application: | WB, IP, ICC, ELISA |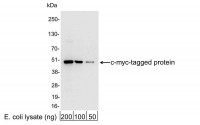 Anti-c-myc, HRP conjugated
Item number: A190-105P

Protein function: Transcription factor that binds DNA in a non-specific manner, yet also specifically recognizes the core sequence 5'- CAC[GA]TG-3'. Activates the transcription of growth-related genes. [The UniProt Consortium]
| | |
| --- | --- |
| Keywords: | Anti-MYC, Anti-bHLHe39, Anti-BHLHE39, Anti-Proto-oncogene c-Myc, Anti-Transcription factor p64, Anti-Myc proto-oncogene... |
| Application: | WB, IHC, ICC, ELISA |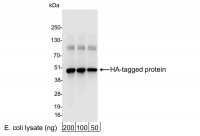 Anti-HA
Item number: A190-108A

| | |
| --- | --- |
| Keywords: | Ant-HA-Tag, epitope tag antibody |
| Application: | WB, IP, ICC, ELISA |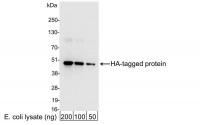 Anti-HA, HRP conjugated
Item number: A190-108P

| | |
| --- | --- |
| Keywords: | Ant-HA-Tag, epitope tag antibody, HRP |
| Application: | ELISA, WB, ICC |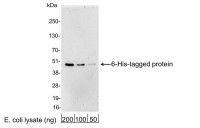 Anti-6-His
Item number: A190-113A

| | |
| --- | --- |
| Keywords: | epitope tag antibody |
| Application: | WB, IP, ICC, ELISA |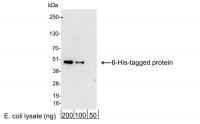 Anti-6-His, HRP conjugated
Item number: A190-113P

| | |
| --- | --- |
| Keywords: | epitope tag antibody |
| Application: | WB, IHC, ICC, ELISA |